Confucius
(2010)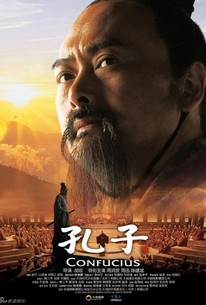 Movie Info
From the producer of Red Cliff and Warlords and shot in the same lavish style, Confucius stars superstar Chow Yun-Fat (Crouching Tiger, Hidden Dragon) as the legendary hero of the title: a man who lead the kingdom of Lu in battle against its warmongering neighbour, Qi.
Rating:
NR
Genre:
,
Directed By:
Written By:
In Theaters:
On DVD:
Runtime:
Studio:
Beijing Dadi Century Limited
Critic Reviews for Confucius
Audience Reviews for Confucius
The tyranny within these walls put tigers to shame. The Chinese eastern philosopher, Confucius, is banned from his home city due to his beliefs and direction. He bands with another dynasty and helps defend a city from an invading tyrant. He hopes to restore his city's trust and one day return. Meanwhile, as he defends the city, he discovers those inside may be no more worthy of the city and its walls than those trying to invade. "In times of war we need generals. In time of trouble we need thinkers." Mei Hu, director of Army Nurse and On the Other Side of the Bridge, delivers Confucius. The storyline for this picture is well paced and contains a nice mix of action and character interaction with interesting dialogue. The acting is above average and the cast includes Chow Yun-Fat and Xun Zhou. "A diligent student needs no teacher." I came across this on Netflix and thought the premise and main character had potential. This was interesting and worth watching, but wasn't as good as similar films like Ip Man, Hero, and House of the Flying Daggers. Overall, I recommend seeing this if you're a fan of the genre but I wouldn't add it to my DVD collection. "Every great achievement is balanced by a great loss." Grade: C+
Kevin Robbins
½
Lavish cinematography is the highlight of this movie. It is difficult to bring a philosopher's life to screen and make it interesting. He doesn't do much but think and teach. The war scenes are CGI, with the participants looking more like ants than people in the long shots. Yun-Fat gives his usual professional performance. It is too long - they could have had less scenes from the wandering years. Again, the colors and locations make it worth your time.
Don Schick
Confucius was a statesman and philosopher during the Qin dynasty who championed education and fair government in favour of constant war between the ruling nobility and is one of the most revered figures in Chinese history. The idea of a big budget epic based upon the life of such an interesting figure played by Chow Yun Fat really appealed to me but unfortunately the script writer fell foul of a serious case of Braveheartitus and delivers a sloppy, unfocussed tale that holds its protagonist in such reverence as to render him completely two dimensional. Confucius is presented as a kind of cross between Gandhi and Robin Hood who speaks in one line fortune cookie aphorisms and every plot development is signposted with clumsy exposition, underlined with ham fisted dialogue and double underlined by the overbearingly schmaltzy soundtrack. But at least during the first half as he attempts to civilise his birthplace of Lu there is some narrative momentum; the second is just a series of context-free meanderings that's plagued by so much saccharine it would make Augustus Gloop balk. Basically this film is guilty of the same flaws of its Hollywood counterparts; too much concentration on visual set pieces and sentimentality at the expense of drama and characterisation making Confucius a great disappointment and a wasted opportunity.
Confucius Quotes
There are no approved quotes yet for this movie.
Discussion Forum
Discuss Confucius on our Movie forum!