The Consequences of Love (Le Conseguenze dell'amore)
(2005)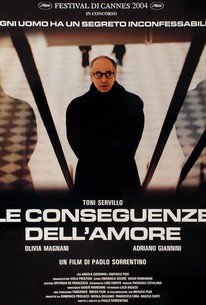 The Consequences of Love (Le Conseguenze dell'amore) Photos
Movie Info
Titta di Girolamo has spent eight years living alone, not working. His only vices are cigarettes and hanging around in bars, he seems as if he's waiting for something, for a secret to be revealed. As it turns out, Titta is a mafia courier and his life is programmed by his work commitments and his drug addiction, both facets of his life meticulously managed. Then one day he meets a young girl, Sofia, and his habits will be completely altered, down to a tragic unpredictable epilogue.
Critic Reviews for The Consequences of Love (Le Conseguenze dell'amore)
Audience Reviews for The Consequences of Love (Le Conseguenze dell'amore)
Made at a time when everybody was not an open book due to the internet, the ever unpredictable "The Consequences of Love" recreates the pleasure of getting to know somebody for the first time. Even if that is the dour faced and middle-aged Titta di Girolamo(Toni Servillo) who has been staying at the same Swiss hotel for the past eight years. Since he cannot sleep, he eavesdrops on his neighbors Isabella(Angela Goodwin) and Carlo(Raffaele Pisu) who used to own the hotel. I have heard that insomnia occurs to people who stay in hotels, probably due to a routine being broken or just sleeping in a strange bed, but have never had a problem sleeping in one myself. For the record, Titta has a routine of always using heroin every Wednesday at 10:00 am. As much as he admits that other people would frown at this habit, the movie in its own unique way shows the perils of breaking up a routine, starting with a suitcase being noisily dragged across a rumble strip that ends the opening credits.
½
Admittedly very little happens in the first hour to lead you to believe a good storyline is on its way. The last twenty minutes or so, though give a harsh restart and brings the film nicely to well planned conclusion. Realistic, slow moving, yet an impacting film.
Lady D'arbanville
Super Reviewer
½
A beautiful understated gangster romance. Rather than focusing on the "cool" criminals we get to see the life of a man who spends his time waiting. He waits around in bars, and in his hotel room. Despite being isolated by the mob, he also isolates himself. Keeping a firm distance from human contact. The film follows his path back to humanity and handles it beautifully. The film is excellently shot, starting with what could be considered a modern day Omar Shariff Lawrence of Arabia entrance as a man slowly approaches the camera. It's handled in a way which seems to skip the most exciting moments of usual films, in many ways it is like No Country For Old Men. More thoughtful than violent with moments to ponder over. It doesn't hurt that it stars one of the most beautiful women ever. She's rather a bit lovely. Servillo deserved some award recognition for his wonderfully subtle performance, pulling off lonely cantankerous old man with always a hint of class and lethal killing machine to him.
Luke Baldock
Super Reviewer
The Consequences of Love (Le Conseguenze dell'amore) Quotes
There are no approved quotes yet for this movie.