Cooley High
(1975)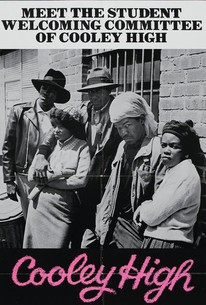 Movie Info
Michael Schultz directed this deeply felt recollection of adolescent life on Chicago's near North Side in 1964. Like American Graffiti, Cooley High deals with girl, school, and police troubles as a group of high-school seniors prepare for post-high-school life. The chums are Glynn Turman as "Preach," who loves to read poetry and history and wants to become a Hollywood screenwriter, but who has the worst grades in the school; and Lawrence Hilton-Jacobs as Cochise, the high-school basketball star and suave lady-killer. Preach has to contend with love problems in the form of Brenda (Cynthia Davis), school problems with emphatic teacher Mr. Mason (Garrett Morris), and law problems with street toughs Stone (Shermann Smith) and Robert (Norman Gibson).
News & Interviews for Cooley High
Critic Reviews for Cooley High
Audience Reviews for Cooley High
½
This is one of those films that you don't really know what to expect going in, think the film is going one way, and then it takes you a completely different route. But I really appreciate what this film did for not only the black community, as a part of the black exploitation film era, but also what it did for Chicago as a city. Every now and then there would be a film centered in and filmed in Chicago, but Cooley High did a lot for the city in terms of revamping their stake in the movie business. Cooley High isn't really told in a typical 3 act structure. In fact, it's very episodic in that there's mini arcs within a bigger arc. For the most part, I enjoyed watching the film. We saw it in 70mm film for my cinema class and so I don't think I would have been aware of it otherwise, and I'm glad I got a chance to see it. Obviously being a white male, I'm not necessarily the target audience, but I think there's a lot of fun to be had with this group of kids from Cooley High. Not only is there a ton of great physical comedy (that holds up) but the writing makes you care about all of it's lead characters. I don't believe any of the actors became famous, but they worked really well together on screen. Which makes it even more heart-breaking when you see the entire film. It's pretty much my only main complaint with the film. 95 percent of the film is comedic and then all of a sudden the end of the film hits you like a shot in the dark. To me, that's almost manipulative and too jarring for an audience. It's a film you walk out in pure silence because you don't really know what you just saw. Having a pretty low budget, I'm sure they were constrained from filming in every location, but I do believe they could have used the Chicago landscape even more than they did. So overall, this film is pretty fun with great characters to watch and grow as high schoolers. The second half becomes a little uneven and the ending is very jarring, but it's definitely worth a watch for it's historical impact and it's comedic timing. +Really funny +Chemistry between the guys +Important in history -Jarring ending 7.1/10
Thomas Drufke
Super Reviewer
½
A 70's film about a 60's group of friends from the projects meandering through their last year of high school. The soundtrack is a gem, matching the soaring harmonica of Stevie Wonders fingertips to the exuberance of four boys playing hookey at the zoo. In these little-incidents-strung-together-into-a-whole kind of films, a lot of the impact depends on how much you care about the lead characters so I was hamstrung by finding Preach cocky and mostly charmless but hey, that's teenagers for you, the scamps.
Cooley High is essentially the black American Graffiti. It's a series of funny and mostly entertaining scenes that don't quite fit together (or necessarily go anywhere) until you stick them to the fumes of a minimalist plot. Throw in an amazing soundtrack and you've got an enjoyable cult classic. For the most part Cooley High is just kind of there but a heartbreaking ending pulls it all together. Some great characters and really funny scenes--namely the hooker and the bathroom scenes. Not exactly essential viewing but definitely worthwhile.
Michael Gildea
Super Reviewer
Cooley High Quotes
| | |
| --- | --- |
| Preach: | We were friends, a long time ago. Laughin, rappin, chasin girls, obeying no laws, except the law of caring. Basketball days and high nights, no tomorrows, unable to remember yesterday. We live for today... |
| | |
| --- | --- |
| Mr. Mason: | "Don't you ever want anything in this life, Preach?" |
| Mr. Mason: | Don't you ever want anything in this life, Preach? |
| Preach: | "Yeah......I wanna live forever." |
| Preach: | Yeah... I wanna live forever. |