Coquette
(1929)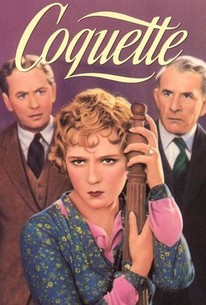 AUDIENCE SCORE
Critic Consensus: No consensus yet.
Movie Info
Mary Pickford's first role in a talkie won an Oscar for her performance as a wealthy flapper from the South. Norma Besant (Pickford) has fallen in love with a man (Johnny Mac Brown) much less than her equal in economic class, and her father (John St. Polis) strenuously objects.
Critic Reviews for Coquette
All Critics (3) | Fresh (0) | Rotten (3)
Vet silent actress Mary Pickford won her first and Only Best Actress Oscar for this melodrama, done better on stage with Helen Hayes.
The film is very stagy, the characters don't move around a lot, there is little editing within the scene, and the actors overact.
I guess 1929 audiences knew a stinker when they saw one coming. There is very little to criticize in Coquette, because there is so little in it, period.
Audience Reviews for Coquette
In watching 'Coquette', you have to cut it some slack for having been made in 1929, when acting was generally hammy and plots were a little thin. Mary Pickford does her share of over-emoting, but she also has a couple of brilliant scenes while grieving, really letting go, and showing she was ahead of her time as an actor. At 37, she also pulls off the look of a young flapper, and is so cute with her short hair and standing 5'1". John St. Polis plays the part of her father well, the Southern gentleman who must look out for the family's honor, and who detests her love interest, played by Johnny Mack Brown. The two of them also have some powerful scenes as emotions overheat. I also loved the snippets of dancing scenes we get to see, they are so energetic and really convey what we think of about the 1920's. At the beginning of the film, I was put off by its slow start and the spotty quality of the film after all these years, particularly when it was hard to understand the dialogue. If you feel the same, I would recommend sticking with it. It's flawed and not going to be your favorite film of all time or anything, but it's worth spending the 75 minutes to watch Pickford and the rest of this cast.
Antonius Block
Super Reviewer
½
Terrible, overwrought early talkie with a head scratcher of an Oscar winning performance from Mary Pickford. She's at least a decade and a half too old for her part and tries to compensate with preciousness. It doesn't work.
Interesting early talkie starring silent screen star "Little Mary" Pickford. She plays a Southern Belle type who loves a man her father hates and has forbidden her to associate with. When the father takes care of business his way, Mary is faced wth dilemma of lying about her beau to save her father or stick by her love and watch Dad go to prison. The acting was still very much in the silent style, with lots of extreme facial expressions and mannerisms. But the story was OK, and I had never seen Mary Pickford in a film before. She overacts somewhat, but if you squint your eyes just right, she was still pretty convincing. An interesting little piece of melodrama.
Coquette Quotes
There are no approved quotes yet for this movie.