Cottage on Dartmoor
(1930)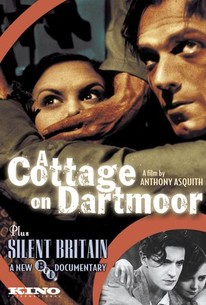 AUDIENCE SCORE
Critic Consensus: No consensus yet.
Cottage on Dartmoor Photos
Movie Info
Escaped From Dartmoor (aka A Cottage On Dartmoor) represented director Anthony Asquith's entree into the world of talking pictures. Compared by contemporary critics to the best that Hitchcock had to offer, the film concentrates on murder amongst the lower classes. Things go from bad to worse when Joe (Ugo Henning), a barber, falls in love with Sally (Nora Baring), a manicurist. When foreign customer Harry (Hans Schettow) likewise falls for Sally, Joe responds by slitting the man's throat. This earns him a stiff prison term, but he manages to escape for more deviltry. Completed as a silent film, Escaped from Dartmoor was converted into a part-soundie with the inclusion of a five-minute scene in which the three main characters attend a talking picture show.
Critic Reviews for Cottage on Dartmoor
Audience Reviews for Cottage on Dartmoor
½
an amazing film!~ i'm shocked i had never heard of this til a few weeks ago. this late silent is easily the equal of anything hitchcock was doing. it's a shame asquith's later work doesn't show the vitality and beauty of this early thriller. beginning with a prison escape, most of the film plays as an extended flashback with extraordinary camerawork and expressionistic shadowplay. loved it!
Stella Dallas
Super Reviewer
½
COTTAGE ON DARTMOOR: an expressionistic and claustrophobic account of sexual obsession and jealousy, very Hitchockian in the way it deals with the resulting crescendo of suspense, especially in connection with a key throat-cutting in a barber's chair incident. Asquith was a director who grew stodgy as his career entered into the sound era, viz his terribly British adaptions of Rattigan, but the present film (1929) is rather an eye opener. One standout scene is set within a cinema, partly a comment on the imminent and creatively burdensome coming of clunky sound, and which contains an extended eye opening use of editing, cutting about within an audience as the beady-eyed boy friend watches his victims - a bravura sequence which ought to be much better known to cineastes.
Cassandra Maples
Super Reviewer
½
"A Cottage on Dartmoor" is a suspenseful and stylish silent movie about the very slight difference between tragedy and triumph. The movie starts on a cold day on the moors as Joe(Uno Henning) is making his escape from prison and towards Sally(Norah Baring) in an isolated farmhouse. In happier times, they worked together in a salon, she a manicurist and he a barber. While there, he had an unrequited crush on her until he finally got up the nerve to ask to her to the talkies but he drops the tickets. Regardless, she is still kind enough to invite him over for dinner at her boardinghouse.
Cottage on Dartmoor Quotes
There are no approved quotes yet for this movie.