The Crawling Eye (The Trollenberg Terror)
(1958)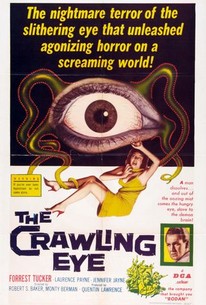 The Crawling Eye (The Trollenberg Terror) Videos
The Crawling Eye (The Trollenberg Terror) Photos
Movie Info
The Trollenberg Terror was adapted for the screen by Jimmy Sangster from the popular BBC TV serial by Peter Key. At the remote Alpine village of Trollenberg, someone or something is killing off mountain climbers. The culprits turn out to be an army of one-eyed, tentacled, beasts from outer space, who hide themselves in a radioactive cloud. Crawling along like snails, these horrific creatures attempt to neutralize their human foes by pumping a freezing fog at their pursuers. It helps matters not at all that some of the locals have been mentally enslaved by the monsters. It's up to American scientist Alan Brooks to save the day. The Trollenberg Terror was retitled The Crawling Eye when it was released in the U.S. on a double bill with The Cosmic Terror.
Critic Reviews for The Crawling Eye (The Trollenberg Terror)
Audience Reviews for The Crawling Eye (The Trollenberg Terror)
½
A group individuals arrived at a snow mountain village where the mountainers began to die from decapitation, one telepathic girl suggested that something sinister is behind the gruesome deaths and the group set to find out there is an extra terrestrial creature (the Crawling Eye) residing within the moutains and seeking to destroy the human race. It's really more of a suspense film rather than horror. All the talking was too boring to keep me engaged, even MST3K couldn't help it
Sylvester Kuo
Super Reviewer
This film- it was more dull and boring than cheesy. The plot is hard to keep up with at parts- Two sisters and some guy played by Forrest Tucker go to Trollinburg- however, one sister is a mind reader and senses something bad will happen in a series of bad dreams. She's right- somebody has been killing hikers lately- it turns out to be a cheesy looking walking giant eye, which focuses on killing everyone. This movie- which I watched the MST3K version of- was VERY boring. I can't believe to say how boring this so-called movie is. The things that are cheesy are just the eye itself and some fake fight scenes. Yes, this movie can be watched by anyone that it's so fake, but any watcher that is human will be in a bore-fest. Two thumbs down.
Jordan Krampf
½
There's not much you can do when crazy eye aliens attack I guess, but the whole story is kinda stupid. It could have been better.
The Crawling Eye (The Trollenberg Terror) Quotes
There are no approved quotes yet for this movie.
Discussion Forum
Discuss The Crawling Eye (The Trollenberg Terror) on our Movie forum!