Critters 2: The Main Course
(1988)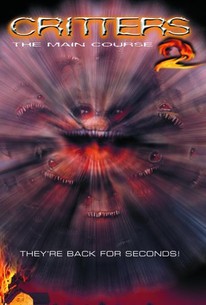 Critters 2: The Main Course Photos
Movie Info
Critters 2: The Main Course is the sequel to the highly enjoyable horror comedy Critters. The people of the Kansas town first menaced by the little, furry creatures find that they are not yet safe as they are again assaulted when the creatures reproduce. Charlie (Don Opper) is joined by Lee (Roxanne Kernohan) as all join forces to save the town. The special effects, particularly the ""critters" are again, superb, but the direction by Mick Garris is less self-assured than in the original feature. While still enjoyable, Critters 2 is not nearly as much fun as the original, but still well worth a view.
Critic Reviews for Critters 2: The Main Course
Audience Reviews for Critters 2: The Main Course
½
Definitely not as good as the first movie, of course, but I thought it was humorous and fun. It is still more gory than Gremlins, which is good, I liked that part. The story isn't the best, but it didn't feel like it needed to be anyways. It's enjoyable.
Second entry in the Critters franchise a fun, entertaining sequel. Picking up where the first left off, Critters 2 is a good follow up to the first film. The film is an enjoyable sequel, and considering that this film is a sequel, it succeeds where most sequels fail, capturing the essence of the original film. I would say that Critters 2 is on par with the original. Fans of the first film will surely enjoy this film, as it keeps everything that made the first one good and throws it a few new ideas in the mix. What you get is a film that builds on what made the first one terrific and makes it just as entertaining and fun.If you've enjoyed the first film, then you're most likely going to enjoy this film. A terrific comedy horror film thats very entertaining from start to finish. As far as horror sequels are concerned, Critters 2 does a great job at building on the success of the first and being just as entertaining as the first. The film is a must see for fans of the series, but unfortunately is also the last good Critters sequel, after this entry, the Critters films started going downhill. An entertaining and fun sequel to a memorable horror comedy.
½
More of the same really but on a bigger scale with the action moving to a small town rather than the nearby farm house. A bunch of familiar faces from the first movie return to do battle with the Critters once more. Slightly better than the first I thought.
Critters 2: The Main Course Quotes
There are no approved quotes yet for this movie.