Crooked Arrows
(2012)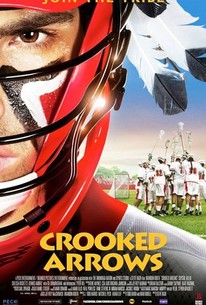 Movie Info
A mixed-blood Native American, Joe Logan, eager to modernize his reservation, must first prove himself to his father, the traditionalist Tribal Chairman, by rediscovering his spirit. He is tasked with coaching the reservation's high school lacrosse team which competes against the better equipped and better trained players of the elite Prep School League. Joe inspires the Native American boys and teaches them the true meaning of tribal pride. Ignited by their heritage and believing in their new-found potential, coach and team climb an uphill battle to the state championship finals against their privileged prep school rivals...will they win? -- (C) Official Site
Rating:
PG-13 (for some suggestive references)
Genre:
,
Directed By:
Written By:
In Theaters:
On DVD:
Box Office:
$1,700,000.00
Runtime:
Studio:
Critic Reviews for Crooked Arrows
Audience Reviews for Crooked Arrows
As lacrosse becomes an always growing sport, the need for a movie to bring attention to it was desperately needed. Crooked Arrows does a good job of showing the audience the history and the tradition of the sport, but lacks in a sound plot and strong characters. The underdog story of the less equipped Native American team against the private schools, seems like too predictable of an outcome. Although the moves and dodges the teams perform are exciting, the movie's games seem to miss showing the fast pace of a real lacrosse game. The acting talent of the team and coaches just make the movie seem to go even slower. It has its comedic moments but they seem forced and played only for laughs.
Hunter Morris
½
The acting is horrible. The story is painfully predictable and it watches no better than a Saturday morning teen drama. Lax fans will enjoy the lacrosse action, but it's nowhere near enough to save this film from mediocrity.
Bobby Leyva
Crooked Arrows is one of those films you feel bad for because you cannot give it a good review to help its chances as it is NOT that good of a movie ... even though it tries really hard to be. Joe Logan (Brandon Routh - Superman Returns, Scott Pilgrim vs the World) is a mixed-blood Native American who is trying to modernize the reservation. Joe has already built a new school and the casino on the land is getting a face-lift; but all his father really wants of his son is for him to prove his worth to the tribe by coaching the high school lacrosse team. Although Joe played in the past, his glory days are behind him and this becomes a standard, not-so-surprising fish-out-of-water tale until Joe's mastery of the sport (surprise!) kicks back in and it then becomes an athletic underdog story we have all seen countless times as the impoverished Crooked Arrows eventually battle it out with an arrogant and bullyish, top-of-the-line team who think they are going to win the state championship. While Routh is extremely personable, laid-back and like-able here, he cannot do anything to personally save the sad, little movie. The acting is stiff and rehearsed and the dialogue is howl-worthy (awful!!). Many of the scenes feel forced; but when something is as predictable as Crooked Arrows it doesn't really matter. The movie does try in earnest; but it IS one of those movies with NO surprises. One could read the synopsis now and know how this movie ends without watching a single scene.
Thomas Williams
Crooked Arrows Quotes
There are no approved quotes yet for this movie.