Cropsey
(2010)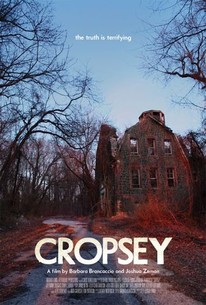 TOMATOMETER
AUDIENCE SCORE
Critic Consensus: Riveting and bone-chillingly creepy, Cropsey manages to be one of the best documentaries and one of the best horror movies of the year.
Movie Info
Staten Island filmmakers Joshua Zeman and Barbara Brancaccio reveal how an urban legend conjured up to keep kids from exploring abandoned buildings became a horrifying reality when a mysterious drifter began abducting children in their tight-knit urban neighborhood. Growing up, Zeman and Brancaccio were deluged with terrifying tales of Cropsy, a murderous mental patient prone to snatching children off the streets and taking them to the derelict buildings that were once part of the Willowbrook Mental Institution. Some claimed Crospey had a hook for a hand; others claimed his weapon of choice was a large axe. In 1987, that legend crossed the boundary into reality when 13-year-old Jennifer Schweiger vanished without a trace. Her disappearance sent shockwaves of fear through the community, but it was only the first. Before long Crospey had a name: Andre Rand. When a photo of a handcuffed Rand was released in the press, the public didn't need a conviction to know he was the man who had been preying on their children. In this film, Zeman and Brancaccio go back to the scene of the crimes to search for clues, and speak with the locals about how the case has haunted them for decades.
News & Interviews for Cropsey
Critic Reviews for Cropsey
Audience Reviews for Cropsey
The good thing about this urban-legend-hunters documentary is that it is creepy and unsettling as hell, and it proves to be a fascinating blend of doc and horror film; the bad thing, however, is that the lack of answers is really frustrating and everything is left too inconclusive.
Carlos Magalhães
Super Reviewer
This film has been commended for its horror genre type narrative surrounding the urban legend of Cropsey, but what documentarians Zeman and Brancaccio only serve to accomplish is scare themselves. The urban legend surrounds a creepy, somewhat crazed killer, who snatches children for their bad behavior. The two point to this urban legend, in conjunction with the case of Andre Rand, a former care worker at the closed Willowbrook Mental Institution, who was accused of the abduction and murder of four children on Staten Island. The actual mental facility of Willowbrook was closed for abuse from workers and unseemly conditions, its ghosts haunting the hallowed halls and lending shelter to a supposed clan of former workers and residents. Though we do not see these people, nor are they interviewed, Zeman and Brancaccio want us to believe they exist, as well as that Rand is the eponymous boogeyman Cropsey. While these two definitely frighten the viewer with the real story of the closed institution, and intrigue us with a narrative of a misanthropic clan of hermits out in the woods, their link between Rand and Cropsey is tentative. Rand's case is picked apart here, and subjected to questioning by the documentarians, witnesses, the defense, and local residents of the adjoining town. The film doesn't serve to solve any larger mystery, but instead prods at the past in order to show "Hey, this is pretty creepy, right?" It drags on forever, trying to show inconsistencies with the case but also claiming Rand could also be the killer. The film ends ambiguously, which I absolutely hated, since this is supposedly a story of a child killer. They tried to fit this story into the overarching theme of urban legends, showing the inconsistencies between stories and the adding of elements from one person to another like a foul game of telephone, but they end up just throwing their hands in the air and walking off, unsatisfied.
Spencer S.
Super Reviewer
This was a chilling doc about a series of child murders. It's scary to see all of the history behind it. The location is eerie and the people we meet are just as off putting sometimes. Well shot and well put together.
Jason Spencer
Super Reviewer
Cropsey Quotes
There are no approved quotes yet for this movie.