The Crow: City of Angels
(1996)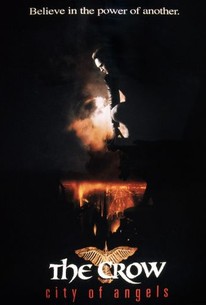 The Crow: City of Angels Photos
Movie Info
Ashe is a biker who is killed along with his son after witnessing a murder. A crow comes to give him life so that he might seek revenge on his killer. Dressing in traditional Crow black and wearing white makeup, Ashe sets out on his bloody trail of revenge.
People Who Like this movie also like
Critic Reviews for The Crow: City of Angels
Audience Reviews for The Crow: City of Angels
Hmmm great soundtrack, truely great and looks amazing, its practically a music video really but shame its kind of a rerun of the original (which can't be bettered) but its the last of The Crow flicks that was any good. Style and design is faultless, costume and action set pieces are stunning and the villains are a lovely motley crew of nutters and killers that just happen to look like a bunch of ladyboys and transvestites. Its just a shame it wasn't received better but I think the obvious way they tried to replace or copy the 'Draven' character with 'Ash' in both looks and behaviour was the wrong choice and fans didn't accept it. The first film was one of those moments in film history that can't be repeated and Lee will always be the ultimate Crow.
Phil Hubbs
Super Reviewer
This .was actually not too bad until the end which was ridiculous.
The Crow: City of Angels suffers from the greatest sin in movie making; too many hands in the editing cookie jar. Had the film that Tim Pope shot been allowed to be presented, I think fan reaction would not be near as harsh as it has been and had the studio trusted Pope's vision more and most importantly, trusted the audience more, this film had the potential to be great. As is, I love the style of the film and the performances of Vincent Perez and Mia Kirshner. In my original viewing my issue with casting issue was made in the form of one Iggy Pop. What I told friends at the time was roughly that granted, the man is a living legend in the Punk circles and is a personal hero of Crow graphic novel creator James O'Barr (Eric's movements are based on the lean Pop's stage antics)., one can not escape the reality that Iggy Pop was way over his head acting wise in this. A far more seasoned actor could have turned Iggy Pop's "Curve" into a great scene stealer. As is, he may look the part and at times even act the part, but he never IS the part. Now I think about those statements and not sure that they're valid. Its very likely his best parts of the performance along with other plot elements are laid to waste on the cutting room floor. Now we get to the biggest flaw and that is the tampering done by the studio in regard to the romance..I read and still have the original script which wasn't bad at all but when the film was done, they did some knee-jerk cutting of the film when some test screenings showed people were weary of a romance between essentially a dead man and a woman who is alive. However, had the core audience been trusted, but more importantly, had Pope's original vision and script been trusted, they could have pushed that doomed relationship story arc further. It would have given the story a lot better balance than it has (when a director makes one film and the studio wants edits to make it something else, you lose a lot of story cohesion). Along with that, sticking to the original story would have given us a darker ending, but none the less, an ending truer to the story than the eluded to happy ending we have. The final trapping of the film is that with all of the input outside of the director's, too many story elements are repeated from the first film to try and make it more in line with it (the first film) than being something entirely of its own accord. This caused an even harsher reaction from fans as they saw this as merely being a product pushed on the coat tails of the first film. In the end its most definitely a very flawed film. Not great but not terrible. If you can find the original script, give it read. A much better script than final film due to studio tampering.
David Ladd
Super Reviewer
The Crow: City of Angels Quotes
| | |
| --- | --- |
| Sarah: | Life is just a dream on the way to death. |
| | |
| --- | --- |
| Ashe Corven: | You're wasting your breath. Nobody's up there listening. |
Discussion Forum
Discuss The Crow: City of Angels on our Movie forum!