Crush
(2002)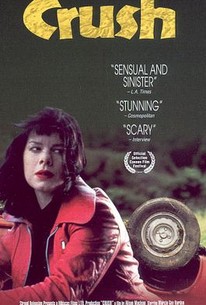 Movie Info
Produced with the help of the Sundance Institute, Alison Maclean's first feature, Crush, is a clever, gynocentric neo-noir. Oscar winner Marcia Gay Harden (Pollock) stars as Lane, the film's conflicted femme fatale. The film opens with Lane speeding along a winding road. She's driving her best friend and lover, Christina (Donogh Rees), a literary critic, to meet with an author, Colin (William Zappa), at his home in the New Zealand countryside. In the midst of a snarky conversation, Lane is momentarily distracted and drives her car off the road. The car flips over, and Christina is badly injured, while Lane walks away with barely a scratch. She goes to Colin's house, where she meets Angela (Caitlin Bossley), his shy, tomboyish teenage daughter. Lane doesn't immediately identify herself, and Angela -- thinking that Lane is actually Christina -- takes her for a walk. The charmingly aggressive Lane begins flirting with the impressionable girl, and it's clear that Angela is smitten with the brash American woman. Later, Colin arrives home, and he agrees to let Lane stay in their home for a few days. Before long, Lane has seduced him. Angela is jealous and begins going to the hospital to visit Christina, who is recovering from a severe head injury. As she recovers, regaining control of her movements and the ability to speak, Angela tells her again and again that one horrible person is to blame for her condition -- Lane. But Angela is not prepared for the harrowing results when she brings Christina home for a visit. Crush is an amusingly twisted thriller from down under, rooted in well-drawn characters, along the same lines as Jocelyn Moorehouse's wickedly clever Proof. Maclean demonstrates great skill with actors and with complex material, which is also evident in her second feature, Jesus' Son.
Audience Reviews for Crush
Hard movie to get through. Pretty okay movie though.
Leigh Ryan
Super Reviewer
Crush Quotes
There are no approved quotes yet for this movie.