Curse of Chucky
(2013)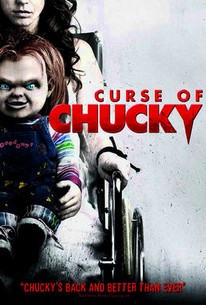 Movie Info
Serial killer Charles Lee Ray once again returns in the form of a "Good Guy" doll in this sixth installment of the Child's Play franchise. Series creator Don Mancini returns to direct from his own script, which finds Chucky in the home of a fractured family with whom he has a decades-old grudge with. ~ Jeremy Wheeler, Rovi
News & Interviews for Curse of Chucky
Critic Reviews for Curse of Chucky
Audience Reviews for Curse of Chucky
Curse of Chucky has had plenty of praise in horror circles, and it has been hailed as one of the strongest efforts in the Child's Play series in a long time. To be honest, I found this very mediocre, and dull. The film is poorly acted and didn't have anything that was really grabbed my attention. I also thought that the special effects were laughable and they looked sloppy. I expected to enjoy it after hearing good things about it. However, the resulting picture didn't thrill me. In terms of sequels, this one just shows that the Child's Play should have ended a long time ago. I found that the story could have been better, even though the film started with potential, it ended up being a film that was mediocre and it was one of the most disappointing horror films in recent memory. Though it's an improvement over Seed of Chucky, I really thought that the film didn't deliver on its hype. This may appeal to others, however I just felt it was an unnecessary film that failed to be entertaining. Curse of Chucky is a sloppily made movie with bad acting and cheap looking special effects that really bring the movie down. This is low budget crap that simply doesn't deliver anything worth seeing. This was released straight to DVD, and it shows. I felt that this one could have better, but halfway through, it loses its steam and it becomes laughably mediocre. I feel it's a shame because; the filmmakers really could have made something wonderful here, but in the end, it's clear that the Child's Play series has overstayed its welcome and they really shouldn't make anymore.
½
Chucky is back - and in a good way! It discards most of the absurd silliness of the Bride and Seed movies for classic killer-doll action! Most of it takes place in a large mansion at night during a storm. The ending is pretty neato.
Lafe Fredbjornson
Super Reviewer
Awesome. Makes no sense at the end, but couldn't care less. Was delighted with the cameos. Have watched and loved these movies for years.
Nicki Marie
Super Reviewer
Curse of Chucky Quotes
| | |
| --- | --- |
| Chucky: | Twenty-five years. Since then, a lot of families have come and gone. The Barclays, the Kincaids, the Tillys. But Nica, your family was always my favourite and now your the last one standing! So to speak.You know, you remind me a lot of Andy Barclay. He was a whiney little bitch just like you. |
| Nica: | Did you kill him too? |
| Chucky: | More or less. I killed his Childhood. And the truth is, I killed you 25 years ago too, haven't I Nica? This isn't living. You can't call *this* living; you've just been on life support. Time to pull the fucking plug! |
| Nica: | So you never actually killed Andy Barclay? Did you? |
| Chucky: | What? |
| | |
| --- | --- |
| Chucky: | Twenty-five years. Since then, a lot of families have come and gone. The Barclays, the Kincaids, the Tillys. But Nica, your family was always my favorite. And now... you're the last one standing. So to speak. |
| | |
| --- | --- |
| Chucky: | (after killing Jill) Women. Can't live with 'em. Period. |
| Chucky: | Women. Can't live with 'em. Period. |
| | |
| --- | --- |
| Chucky: | Life is short! Hahaha! |