Curse of the Swamp Creature
(1966)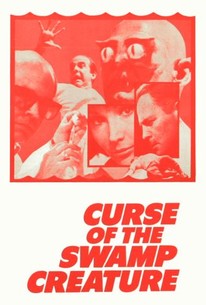 AUDIENCE SCORE
Critic Consensus: No consensus yet.
Curse of the Swamp Creature Photos
Movie Info
A geological expedition stumbles upon a deranged scientist in the Florida swamps who is trying to create a half-man/half-alligator creature.
Critic Reviews for Curse of the Swamp Creature
There are no critic reviews yet for Curse of the Swamp Creature. Keep checking Rotten Tomatoes for updates!
Audience Reviews for Curse of the Swamp Creature
"To create life, to move it up and down the evolutionary path...that's something. Something I don't think you quite appreciate, Tom." It only took me a few seconds of watching the preview of Curse of the Swamp Monster to know that this was going to be must-see, comic gold. And it was. It's hard to believe that something this terrible was made intentionally, but against all reason, logic, and common sense, it was. The only possible point to watching this would be to laugh. The absurdly unintentional humor of it all is its only merit. If you want to start your own personal Mystery Science Theater party, this is a great movie to get you going. Awful acting. A nonsensical plot. No production values whatsoever. Everything about it is laughable, right down to the sinister, talkative scientist with his comically large dark glasses and his borderline retarded plan to do...something or other. I was never quite sure. It involved evolution, swamps, tubes, and turtle snacks, that's for certain. The absolute best part about this monster movie, is that the titular swamp monster only shows up for about 3 minutes at the very end. Which is fortunate, in a way, because the monster's "costume" is one of the stupidest and least threatening "designs" that I've ever seen in my life. And no explanation is ever made about what happens to it, we're just given a quick and tidy ending that completely ignored most of the plot threads that preceded it. Brilliant! I'll take a horribly bad movie over a horribly boring one, any day.
Curse of the Swamp Creature Quotes
Discussion Forum
Discuss Curse of the Swamp Creature on our Movie forum!