Dai-Nipponjin (Big Man Japan)
(2009)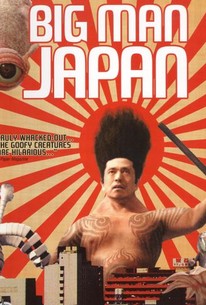 Dai-Nipponjin (Big Man Japan) Photos
Movie Info
Director Hitoshi Matsumoto weaves this darkly comic mockumentary about a Japanese giant who continues the long-standing family tradition of facing off against Tokyo's most formidable monsters. Constantly caught in the middle of everyone's battles, Daisato finds his sincere efforts to keep the peace repeatedly belittled; he's divorced, his neighbors have covered his house in graffiti, and he gets nothing but dirty looks when he walks down the street. When we first meet Daisato, he is the subject of a television documentary. Though on the surface Daisato may seem like your average, slightly unkempt salaryman -- completely unremarkable in all respects -- it soon becomes apparent just how deceiving first impressions can be. After lamenting on camera the fact that he never gets any vacation time due to frequent calls from the Defense Department, the camera follows Daisato as he rides his motorbike to a Tokyo power plant, receives the jolt of electricity that transforms him into a hulking superhuman crime fighter, and clashes with a gargantuan leviathan intent on destroying Tokyo. Daisato comes from a long line of heroic heavyweights, yet while his ancestors were once championed with parades for their noble efforts, public interest in giant invaders has waned and Daisato has become something of a joke to the citizens of Tokyo. Not only is the noise generated by Daisato's battles regarded as a public nuisance, the property damage that he causes while defending the city has the citizens downright angry. Now, as Daisato attempts to balance his responsibilities to his ex-wife, his daughter, his agent, and his senile grandfather, the crushing weight of both his personal and professional obligations simply becomes too much to bear.
News & Interviews for Dai-Nipponjin (Big Man Japan)
Critic Reviews for Dai-Nipponjin (Big Man Japan)
Audience Reviews for Dai-Nipponjin (Big Man Japan)
Movies don't come more oddball than this. Japan's version of "Hancock" is also a loving tribute to the 60s live action kids shows. Big Man Japan is a "mockumentary" following the life of Masaru Daisato, a seemingly ordinary, middle-aged and divorced loser who's having trouble making money and yet seems to be very famous (and disliked by the general population). People throw rocks through his window and write critical graffiti on his wall. Masaru however, is a super hero and must be on call 24 hours a day, for he never knows when he must leap into action to defend the country from giant monsters. It's these bizarre monsters that are the true stars of the movie, from the giant, "hugging" monster with the comb-over to the "evil stare" monster with the cooked chicken body and the phallic eyeball. Masaru grows great big and then chases down these creatures and confronts them (generally he doesn't defeat the monsters so much as they clumsily take themselves out). Everytime a monster dies, it's soul floats up to heaven on a beam of light. The clumsy battles are broadcast on television, albiet to very low ratings (Masaru must cover his body in advertisements just to keep on the air). Every scene involving the monsters is disturbingly surreal and funny all at once. Unfortunately, the documentary portion of the film takes up a great deal of the time. It's not that these scenes aren't compelling in their own right (while furthering the plot), it's just that they aren't very entertaining for the most part. The ending throws out the very premise the film is based upon (the notion that all these creatures are real), and gives us a cheaply done Power Rangers-type production of bad costumes and a badly choreographed fight scene. Yes, I realize this was supposed to be parodying that type of Japanese superhero program, but it feels tacked on and lazy, as if they didn't know how to end it so they went for something easy. Plus, it sort of negates the entire film they just made. I suppose it could be construed as a slightly political jab at the US (what with the red, white and blue super family coming to save the day) but even that is heavy-handed and not very funny. In any regard, it's not a great film, but it is for the most part, an entertaining one (marred, if slightly by a less-than-witty ending).
Devon Bott
Super Reviewer
More than just a homage to kaiju flicks, you can feel Matsumoto is meditating a lot about the routine of living in Japan for a middle age man. A clever approach with a dead-pan comedy style that suits the whole thing very well. The final act was unpredictable but quite fun, and seeing Riki Takeuchi as a big jumping monster is always a plus.
Tsubaki Sanjuro
Super Reviewer
I know a lot of people hated this one, but I for one thought it was hysterically funny. The monsters are totally outrageous and the ineptness of the 'hero' makes him completely identifiable. Highly recommended for the visuals and the creative "bizarreness" (just don't take it too seriously).
Randy Tippy
Super Reviewer
Dai-Nipponjin (Big Man Japan) Quotes
There are no approved quotes yet for this movie.