A Damsel in Distress
(1937)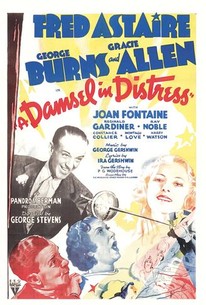 A Damsel in Distress Photos
Movie Info
Fred Astaire's first RKO musical without his longtime partner Ginger Rogers is one of his best from any period -- even though it's obvious that leading lady Joan Fontaine can't dance a step. Written by P. G. Wodehouse, Damsel in Distress casts Astaire as Jerry, an American entertainer appearing in London. Poor Jerry gets sucked into a wager conducted among servants of country squire Lord Mashmorton (Montague Love) He is "elected" to rescue his Lordship's daughter Lady Alyce (Joan Fontaine) from an arranged marriage with orchestra leader Reggie (Ray Noble), a likeable chap who steadfastly refuses to play the villain of the piece. Weaving in and out of all this are Jerry's business manager George (George Burns) and his daffy secretary Gracie (Gracie Allen). In addition to including such Gershwin standards as "A Foggy Day" and "Nice Work if You Can Get It," not to mention Fred Astaire's untoppable "drum dance," A Damsel in Distress affords George Burns and Gracie Allen their best-ever screen roles; the team is permitted to join Astaire in the elaborate "round-and-round" production number "Things are Looking Up," as well as a delightful whisk-broom dance (which, it is said, George and Gracie taught to Fred, rather than the other way around). As Lady Alyce's duplicitous butler, Reginald Gardiner enjoys his own comic highlight with an interesting variation on his "musical cop" routine in Born to Dance. As for 19-year-old Joan Fontaine, she's quite lovely and charming, and Astaire does his very best to camouflage her utter lack of terpsichorean ability. Amazingly, A Damsel in Distress lost money at the box office, compelling RKO Radio to play safe by quickly reteaming Fred Astaire and Ginger Rogers in Carefree.
Critic Reviews for A Damsel in Distress
Audience Reviews for A Damsel in Distress
½
Another predictable romance movie! Well, at least it has Burns and Allen to offer some jokes along the way.
½
this is such a funny movie! First off Gracie Allen is a hoot! she being that dumb is soo believible! I always love Fred Astaire , his voice and dancing! The whole story line was pretty funny! The scene when george burns cant hold in the Opera and just burst out is soo hillarious!
Morgan Salem
Super Reviewer
A Damsel in Distress Quotes
There are no approved quotes yet for this movie.