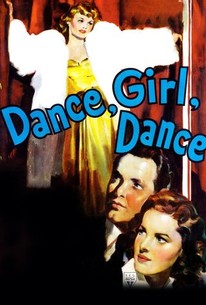 Dance, Girl, Dance
1940, Musical, 1h 30m
12 Reviews
500+ Ratings
Where to watch
Rent/buy
Rent/buy
Rent/buy
Rate And Review
Dance, Girl, Dance Photos
Movie Info
A burlesque queen (Lucille Ball) competes with an aspiring ballerina (Maureen O'Hara) for a divorced playboy (Louis Hayward).
News & Interviews for Dance, Girl, Dance
Audience Reviews for Dance, Girl, Dance
Awesome movie, Lucille Ball like you never seen her before. This was made before she started playing the stupid housewife of Ricky Recardo. Her acting is over the top in this movie. 4 1/2 stars 12-5-12

Dorothy Arzner is often remembered (and rightfully so) for her bravery -- the only regularly employed female director during the Golden Age, the first woman to join the Directors Guild of America, and the first feminist filmmaker some 30 years before it became a social issue -- but Dance, Girl, Dance, her most personal film, follows an almost identical trajectory: a critical and commercial failure that lost a pre-Citizen Kane RKO a crippling amount of money, only to be reclaimed over the years as a film of relevance to the feminist movement. Dance, Girl, Dance is a milestone in the dance film and musical, despite its B-movie production values (featuring lots of back projection). Key sequences which demand critical attention include Judy's (Maureen O'Hara) attempt to be a hula dancer, stunningly upstaged by the sexy wiggles of Bubbles (a pre-I Love Lucy Lucille Ball), and the burlesque routine which gives Bubbles her biggest chance to shine, "Mother, What Do I Do Now?" Hollywood also shows us classical ballet, with an extended routine choreographed by Steve Adams (Bellamy) - relying on the assumption that classical ballet/high art is not as appealing as good old low-down burlesque, regardless of how much money and talent is thrown into the "art" pot. While it may have made use of the resources from Fred and Ginger's RKO musicals, the ballet sequence looks flat against the earthy sexiness of Bubbles' hula dance. Judy's most stunning set piece, a speech near the end berating the men who go to watch strippers on the burlesque stage, could be considered as a barbed attack on the movie audience - after all, part of the Hollywood myth was the objectification of women, and despite Arzner's input, Dance, Girl, Dance is as guilty of this as any other film of the period. The film could be classed as high camp, but it has much more to offer than this implies. Although Arzner's experience with musicals was limited, she ensured the film was tightly directed and gave the finished product considerable power. However, this art vs. commerce mediation was her penultimate film. It succeeds because of its sheer charm and attention to detail; we can understand perfectly how it feels to sleep in a room of the type rented to chorus girls, how seeing a ballet performance can fuel the ambitions of one of their number. It is also a kind of fairytale where Judy is the good princess and Bubbles the wicked witch, although the ending isn't brought about by masculine intervention, but by sheer determination and self-faith.

Lucy tears it up as Bubbles but the rest of the film is bland.
See Details