Dandelion
(2005)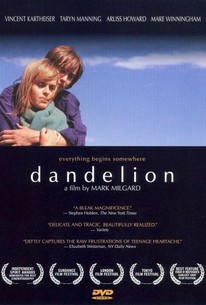 Movie Info
Independent filmmaker Mark Milgard makes his feature debut with the coming-of-age drama Dandelion, filmed on-location in Idaho. TV star Vincent Kartheiser plays Mason Mullich, a quiet sensitive boy living in a small town. His mother, Layla (Mare Winningham), is already overworked when his factory worker father, Luke (Arliss Howard), decides to run for city council. Things change for Mason when he meets Danny Voss (Taryn Manning), a young girl who just moved to town with her mother (Michelle Forbes). Their young love affair is complicated by a family accident. Dandelion premiered at the Sundance Film Festival in 2004 as part of the American Spectrum program.
Critic Reviews for Dandelion
Audience Reviews for Dandelion
A suicidal adolescent, who has taken the fall for his father's accidental vehicular homicide, falls for a troubled young woman. When I read other critics' reviews and see the word "uneven," I often don't know what that means, but Dandelion is my new representative example of an uneven film. The early moments of the film point to some dark pain affecting Mason, the main character, and though we're never given the specifics of what ails him, I trusted that the film would reveal the backstory in due time. It didn't. Instead, the plot takes a right turn after Mason's father accidentally kills a bystander with his car and Mason is accused of the crime. After his prison sentence, Mason's life seems much better, and he is about as well-adjusted as any suburban teenager could hope to be. He even takes on the troubles and joys of Danny, a beautiful girl in the neighborhood, who, like all beautiful heroines in movies of this ilk, seems to find sadness attractive (this is a pet peeve of mine: beautiful women in the real world don't waste their time on sad men). The plot continues with Mason encountering threats from Danny's ex-boyfriend, forgiving his father, and working through Danny's insecurities -- doing all this as though the dreams of suicide and escape from the first act never happened. It's lazy character construction and not very compelling drama. How different the film could have been if it started a half hour later. Vincent Kartheiser is fine as Mason, and Arliss Howard is pretty good as Mason's dad, but I don't think the best performances could rescue the script.
Jim Hunter
Super Reviewer
½
I really enjoyed this film. It shows love in all of it's real forms....love between brothers, husband and wife, mother and daughter, and true adolescent love. The good love, the bad, and well..even the ugly. I guess like other viewers, I wasn't expecting much, but I've been left with a great appreciation for this film, and everyone that was involved in making it.
Cynthia S.
Super Reviewer
CAST: Vincent Kartheiser, Taryn Manning, Mare Winningham, Arliss Howard, Blake Heron, Michelle forbes, Shawn Reaves DIRECTED BY: Mark Milgard SUMMARY: Mason Mullich's family leads a life of quiet desperation. His father, Luke, a grain factory worker, tries to better his lot by running for county council, while his mother, Layla, holds the family together with heartbreaking determination. But Mason is somehow different - so stolid and unfazed, sensitive to deeper rhythms. When he meets Danny, the new girl in town, Mason's focus settles for a moment. But when an accident befalls the family and complications set in with Danny, a tragic series of events unfolds. MY THOUGHTS: "This isn't going to be a movie for everyone. Most aren't going to like the pace or the fact that there is very little dialogue. But I thought it worked very well for this movie and it's story being told. It's like their all suffering silently. No one speaking a word of how sad or depressed they are. The relationship with Danny and her mother is really upsetting. The mother is a complete BITCH. The things she says and how she views relationships with men. She tries her best to install those same thoughts on Danny which is where everything turns into a bittersweet end. Mason's character is a quiet, sensitive, and very reserved soul. He doesn't seem to be alive sort of speak. But when Danny arrives in his life it awakens him somehow. It's a bit of a romantic story of two lonely tortured souls coming together and mending each other only to have it end bitterly. It's an interesting watch if you want to give it a try. I recommend you do."
♥˩ƳИИ ƜѲѲƉƧ♥
Super Reviewer
Dandelion Quotes
There are no approved quotes yet for this movie.