Daniel
(1983)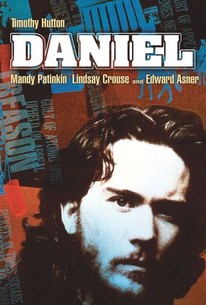 Movie Info
During the 1960s, two college-aged siblings attempt to deal with the shock when their parents are sentenced to death for anti-American espionage. This drama was based on E.L. Doctorow's novel The Book of Daniel, which was in turn inspired by the true story of Julius and Ethel Rosenberg.
Rating:
R
Genre:
, ,
Directed By:
Written By:
In Theaters:
On DVD:
Runtime:
Studio:
Paramount Pictures
Critic Reviews for Daniel
Audience Reviews for Daniel
More Afraid to Take a Stand Than Its Characters Apparently, all concerned claim this movie has nothing to do with the Rosenberg case. This is a ludicrous claim; what else can this movie be about? Oh, it's certainly not a completely biographical version of the story. Not even just in a "names changed to protect ourselves from lawsuits" kind of way. The Rosenbergs had two sons, Robert and Michael, and they're both still alive. They also went the sensible route of filing a Freedom of Information Act request to get information from the government about their parents' case. However, since there aren't a lot of married couples who have been executed for espionage, and since the circumstances are extremely similar, what else can this be about? Anyway, as time goes by, fewer Americans even know who the Rosenbergs were. That ignorance of our own history strikes again. Not that this movie made enough of an impact on culture that it would remind anyone of anything. Daniel Isaacson (Timothy Hutton) has just found out that his sister, Susan (Amanda Plummer), has attempted suicide. He firmly believes that this is mostly to do with their parents' execution on espionage charges when he and Susan were children. Paul (Mandy Patinkin) and and Rochelle (Lindsay Crouse) were young Communist activists in love, and they were raising their children with Communist ideals. Of course, the problem there is when they were doing it. Paul comes home from the War and runs a little radio repair shop, and even as time passes and Communism becomes a scarier and scarier word to the average American. They are tried, convicted, and executed for "giving the Soviets the secret of the bomb." Years later, after he is a husband (to Phyllis, played by Ellen Barkin) and father, Daniel still can't come to terms with what happened to his parents. Susan tells him how proud she is to be the daughter of her parents, but it may be what has caused her problems. Or it may not. Susan is never developed much as a character except inasmuch as she is shown to be completely dependent on her brother. She's definitely shown to be freaked out by what happened, in no small part because of the reactions from people at school. (There's a reason the real Rosenberg boys took their foster parents' last name.) However, we never know enough about her to know if she's traumatized by life, mentally ill, or both. Based on what we see, I lean toward both. Maybe it's more clear in the book, but in the movie, Susan is a cipher. She's someone for Daniel to project his feelings on, but really, that's everyone. Tovuh Feldshuh plays Linda Mindish, daughter of Selig (Joseph Leon), who is the man who turned the Isaacsons in. She is also the person who knows what Daniel is really looking for, and she knows she's pretty well it. He wants someone to blame, and since her father is now senile, and since she and Daniel didn't get along as children, she's it. The truth, whatever it is, won't change that. And that's really the problem with this movie. We never know the truth, and we know that Daniel never will, either. Now, we are told, and it's true, that the idea that the Soviets "stole" the secret of the atomic bomb is a flawed one on several levels. What's more, even if it weren't, there's no reason to believe that Rosenberg/Isaacson had it or could have understood it. It doesn't take much to come to the conclusion that, guilty or not, these were not people who should have been executed for what they did. Especially given the arguable nature of "time of war." However, what Daniel is looking for, he won't find. Can't find. He's looking for someone who to pin the blame on, not just for his parents' deaths but for every wrong in his life. What's more, I think Daniel is projecting so much of himself that there isn't much to him left but desperation and regret. He imagines a life other than the one he leads, and he puts so much of himself into it that he isn't living this one. Still, Hutton is doing what he can with what he is, and so are the others. There's an extremely embarrassing scene wherein Paul lectures Daniel about wanting Wheaties just because of the baseball player on the box. He goes on about how the baseball player, I forget who it is, is no better than any other worker, because he doesn't own the team. In his case, the means of production. What's more, he's selling himself so that Daniel will want to buy Wheaties instead of wholesome oatmeal. (Ilan Mitchell-Smith, who plays young Daniel, makes the perfect expression of distaste at the very thought.) Not even Mandy Patinkin can pull off that dialogue. However, he does a fine job of playing the youthful, then not-so-youthful, idealist. Timothy Hutton carries of the intensity of a driven man, though I think he also imbues it with a sense of having forgotten what drives him. And, of course, Amanda Plummer always seems to end up playing crazy characters, so it's not anything difficult for her.
Edith Nelson
At the end of "Daniel" we know that some emotionally careless parents left behind some emotionally crippled children. We suspect, oddly, that spy secrets and charges of subversion were not really relevant to the damage done to the children. But alas, I don't think that was the movie's intention
Lee Mayo
One of the few underrated films of the early 1980's that went unnoticed. This one,among the rarest that a major studio release that enthusiastically portrays America's Old Left,though in this particular story,gloom naturally trumps the enthusiasm. Inspired by the controversial 1953 execution of Julius and Ethel Rosenberg for allegedly passing atomic bomb secrets to the Soviets,director Sidney Lumet's 1983 movie of E.L. Doctorow's fictionalized The Book of Daniel(screenplay by the author),deals primarity with the effect of family notoriety on children. One offspring(Amanda Plummer) is institutionalized,while the other(Timothy Hutton) is a less obvious head case prone to caustic outbursts. With powerful childhood flashbacks,an ill-received(which got mixed reviews for the critics at the height of its release) movie that Lumet,himself regarded as one his best as weathered a quarter-century well remains a bonafide 80's masterpiece of briliant cinema.
Mister Caple
Super Reviewer
Daniel Quotes
There are no approved quotes yet for this movie.