Daniel & Ana
(2010)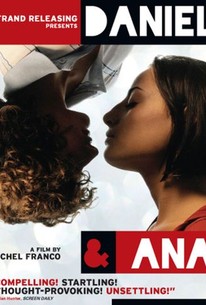 Movie Info
Daniel and Ana, brother and sister, best friends. Both are at pivotal, defining moments in their contented lives. Ana is about to be married, Daniel is a gregarious teenager discovering his personal and sexual identity. Yet their harmony is instantly shattered when they are kidnapped and are forced to engage in an unforgettable act for their freedom. Their old lives become a distant memory and nothing will ever be the same again. -- (C) Strand
Critic Reviews for Daniel & Ana
Audience Reviews for Daniel & Ana
½
For the most part I found this to be an effectively told story about the post-traumatic stress these siblings suffer after going through a terrible experience. The film is very minimalist, static camera angles, not a lot of dialogue, the acting isn't over the top. I thought that this minimalism, at first, before the big moment in the film, was probably going to end up being a flaw and it really wasn't. I just wasn't into this movie at all during the first 20 minutes. But I found the minimalism in the film, AFTER the big scene, to be more believable and disturbing than it would've been otherwise. I think the film makes it a point to show just how one tiny little thing as making a left (or right, I forget) turn, which Daniel forgot to make, can pretty much change your life in an instant. They don't beat you over the head with it, it is far more subtle but I found it, again, to be very effective. The acting, at least from Marimar Vega, was quite good. The guy who played Daniel....eh, he wasn't as good. Just because the character happens to be more understated and is a character that, clearly, has internalized the issues he has after what happened, that doesn't make him good. I mean if it's a role that required more of an emotional output from him, I don't think he could've pulled it off. Anyway if there IS a problem with the film, outside of Dario's acting, is that the twist in the film felt really sleazy and more like attention-grabbing rather than a logical continuation to the story. If you look at the film and Daniel's progression as a character, if you really think about his issues, what he did ends up making sense. So perhaps it IS a "logical" continuation of the character, but it certainly felt like something out of a completely different movie. Here we have a character study about how siblings react to a horrible experience, and then the twist happens and it, again, just feels so sleazy, attention-whoring and exploitative. It's something that the movie definitely didn't need because it actually made the movie worse. It's not like I was going to give the movie 4 stars, only 3, but this twist sort of destroyed everything the film had done right up until that point. Not to mention the fact that Daniel and Ana both go on with their lives, after the twist, as if nothing had happened. I could understand both of them not telling their family after they were kidnapped and being *MAJOR SPOILERS* being forced to have sex with each other, it was something they just wanted to move on from and forget. They were forced by people who were threatening to kill them, so it was only logical they'd do it. But after the twist, why would Ana remain quiet after what Daniel did to her? The first time could be excused as you were pretty much forced to do it, but the second time, what's the reason for Ana's secrecy? It just adds to the exploitative nature of the twist and it's, quite simply, not good storytelling. Anyway, this stupid twist keeps the movie from being good, even though it was well on its way to being a good film. The twist pulls the movie back and makes it into an average experience.
Jesse Ortega
Super Reviewer
Daniel & Ana Quotes
There are no approved quotes yet for this movie.
Discussion Forum
Discuss Daniel & Ana on our Movie forum!