Day After Trinity
(1981)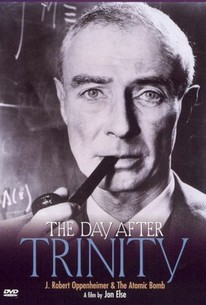 AUDIENCE SCORE
Critic Consensus: No consensus yet.
Movie Info
"I have become death," declared nuclear scientist J. Robert Oppenheimer upon first witnessing the terrible power of the atomic bomb. The Oscar-nominated documentary The Day After Trinity uses newsreel footage and recently declassified government film to trace the growth of the Manhattan project under Oppenheimer's guidance. The New Mexico A-bomb tests are shown, as are the aftermaths of the Hiroshima and Nagasaki bombings. The final scenes detail Oppenheimer's transformation from the "father of the A-bomb" to one of the most tireless opponents of nuclear power. The Day After Trinity received its widest distribution when it was telecast over PBS on April 29, 1981.
Critic Reviews for Day After Trinity
Audience Reviews for Day After Trinity
Documentarian: Was there anything strange about your daughter telling you about the light? Women who had witnessed test bomb: Yes, well she was blind. Well made documentary. Goes to many different perspectives of how the atomic bomb was created and the reaction people had. Also good in giving information about Oppenheimer, who was a cool cat for his time. Well made, interesting, informative, and even has a wry sense of humor, well at least a lot of the physicists do.
Aaron Neuwirth
Super Reviewer
Day After Trinity Quotes
There are no approved quotes yet for this movie.