Ddongpari (Breathless)
(2009)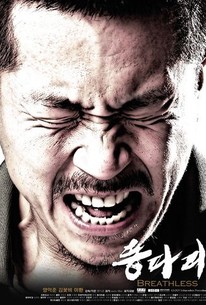 Ddongpari (Breathless) Photos
Movie Info
A violent man learns compassion when he starts to care for a young woman in this independent crime drama. Song-hoon (Yang Ik-june) is a hired thug working for underworld kingpin Man-shik (Jeong Man-shik), whose money buys only so much of Song-hoon's loyalty. Song-hoon has a violent streak and he's not afraid to strike out against those who would turn against him or his boss, making him an enforcer to be reckoned with in the South Korean underworld. But Song-Hoon's life begins to change when he meets Yeong-jae (Lee Hwan), Man-Shik's newest underling. Yeong-jae has a teenage sister, Han Yeon-heui (Kim Gol-bi) who is as good-hearted as her brother is corrupt. Soon-hong and Yeon-heui get to know one another, and his affection for her brings out a compassionate side in his nature that he's never been willing to acknowledge before. As Soon-hong falls deeper in love with Yeon-heui, he begins considering leaving his old life behind, which is more difficult than he ever imagined. Ddongpari (aka Breathless) was the first feature film from writer, producer and director Yang Ik-june, who also stars as Song-hoon.
Critic Reviews for Ddongpari (Breathless)
Audience Reviews for Ddongpari (Breathless)
½
I do think this film is probably longer than it really needs to be. You could tell the same story about the cycle-of-violence and Song-hoon's search to stop his violent ways, due to his very violent and tumultuous childhood, as he comes to care for a young woman and his nephew in 110 minutes. It definitely should've been kept under two hours, it would've helped with the pacing and some of the scenes wouldn't have felt so aimless. With that said, this is still a pretty damn good film. Might be one of the better Korean dramas I've seen in a while, maybe since Sunshine and Poetry. I realize that might not be saying much, considering the rating, and it really isn't, but the fact that so many Korean dramas devolve into cheap melodramatic tactics in order to manipulate your feelings doesn't make for a good film, in my estimation. If you've followed my reviews, and why would you, then you know I can't stand the constant melodrama seen in these films. Which is why it's a great change of pace when you get a movie like this, that's surprisingly unsentimental. Yes, it has its dramatic moments near the end, but it never feels exploitative or cheap. I thought the story was strong because, while you get to see the worst side of the main character, through his physically, and verbally, abusive ways, you also get to see some moments of warmth and tenderness out of the most unlikeliest of characters. It doesn't really feel forced, because the character, until one very traumatic moment nearing the end of the film, doesn't really begin to change. He's still very physically abusive when he's out collecting the money his boss is owed. And he's still verbally abusive to those around him, but this aspect of him is more comical than anything else. Though there's times, where Song-hoon, after his father is released, lashes out more at those around him and his verbally abusive ways becomes a little more troubling than comical. It was cool seeing how Song-hoon brought all those around him closer together in a positive way, even after ***SPOILER*** his death. This ending isn't particularly predictable, because Song-hoon himself even alludes to it. Not in a direct way by saying 'I'm going to die', but saying that there's always someone out there that's tougher than you or more violent than you are, he was saying this in reference to a man that owed him money that was beating on his wife. And that's exactly what happened to him at the end, but not before he made, as mentioned, a positive change in the lives he touched. Again, it doesn't feel forced or cheap. It comes across organically in the film. And the ending, as in the final shots of the film, are particularly bittersweet, because, as mentioned, you get to see the positive impact he had on the people he met, but you also see that the cycle-of-violence will, in fact, continue. It has its flaws, mostly the fact that it is too long, but it's still a damn compelling, dark Korean drama.
Jesse Ortega
Super Reviewer
"Crazy bitch." A bitter and abusive debt collector finds some relief when he meets a high school girl.
REVIEW
Sang-Hoon founded a debt collecting company with a friend. His friend is the boss, but Sang-Hoon prefers to do the dirty job. Sang-Hoon has only seen violence all of his life. He suffered domestic violence at home, so he goes around treating every body the only way he has ever been treated. He insults and disrespects the boss (his friend) in front of the workers, he sometimes even punches his work colleagues, but he beats the hell out of every body else he encounters. Nothing seems to matter to him, he seems unstoppable, until he meets a senior high school girl who seems not to be afraid of him. Sang-Hoon, doesn't know that like him she has suffered domestic violence at the hands of her father, seems to appreciate and respect her attitude. They establish a friendship. Breathless (original title: Ddongpari, which apparently translates as something like "shit-fly") is an unrelenting and uncompromising film from the very first frame. There are constant beatings and fights. Violence pervades every frame. The structure of the film seems repetitive, moving in circles, as if to mirror the circle of violence that the characters are trapped in. Yang Ik-Joon (writer, director, producer, and lead actor) has crafted a film that explores themes of domestic violence and its effects on people. The film seems a bit loose and unfocused in the middle but it is a powerful film for those who manage to reach the end. Extreme and brutal violence on screen. More swearing than Scorsese's Goodfellas. But a powerful first film with amazing performances from Yang Ik-Joon and Kot Bi-Kim playing the school girl with attitude.
Lorenzo von Matterhorn
Super Reviewer
The film's destructive nature in depicting the circle of domestic violence is impressive, You can truly feel the main character's anger & there are some very interesting moments in the film but overall it lacks any ambition specially in its ending which is really cliche & dissapointing
Ddongpari (Breathless) Quotes
There are no approved quotes yet for this movie.