Dead Hooker in a Trunk
(2009)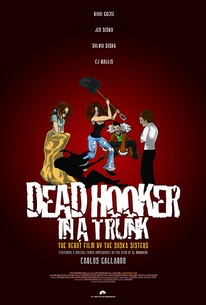 Dead Hooker in a Trunk Videos
Dead Hooker in a Trunk Photos
Movie Info
Four friends race to get rid of the dead hooker discovered decomposing in their trunk, and learn that disposing of a dead body isn't nearly as easy as it looks on TV. A tough-talking babe, her nerdy sister, their God-fearing friend, and a junkie rocker are preparing for another typical day when they make a grim discovery. Someone has murdered a hooker and stuffed her in their trunk. But who did it, and why? As the quarreling foursome search for a place to dump the deceased streetwalker, the police close in and the freaks come out of the word work. Meanwhile, a serial killer is on the loose, and an eccentric cowboy pimp has some pretty big plans for the troublesome cadaver. ~ Jason Buchanan, Rovi
Rating:
PG
Genre:
, , ,
Directed By:
In Theaters:
On DVD:
Runtime:
Studio:
Critic Reviews for Dead Hooker in a Trunk
Audience Reviews for Dead Hooker in a Trunk
While it's definitely not good, Dead Hooker In A Trunk is still somewhat endearing. It feels like a good student film, and with a budget of only two and a half grand, that's more than understandable. I'm amazed that the movie was even as good as it was. But that's not saying a whole lot. And though I already knew going in that the Soska sisters stepped there game up moving forward, judging Dead Hooker solely on its own merits, it's a poorly-acted, grainy, hard to sit through, nonsense bit-piece that is watchable purely for the couple of chuckles it features. I don't regret having watched it, for sure, but I can't imagine I'll be returning to the movie for a second go around either.
An indie film with clear low budget and small crew, but with enough soul and interesting characters to keep it going through its rough characteristics. The film has clear comedic and horror roots inspired by people like Robert Rodriguez (Thanked in the credits) and while it most often than not feels disjointed and bizzarre mostly thanks to its usage of music and sound effects and sound balance, theres enough character and strange but eye-catching moments to keep a low budget horror fan entretained. Not my type of film, but can see why some indie fans may like it.
Pablo Gonzalez
Wildly original, absurdly charming, deliciously vulgar, and delightfully twisted. The Soska Sisters tell their gorgeously f**ked up tale with passion and promise for future projects. The Soska Sisters' directorial debut is one of epic proportions despite it's not-so-epic budget, but maybe that's what makes the film so charming, that do-it-your-self vibe that this film is engulfed in. This films unique story is backed by its solid performances and it's even more solid visuals. It's a grindhouse-esque/exploitation masterpiece.
Justin Rivera
Dead Hooker in a Trunk Quotes
There are no approved quotes yet for this movie.
Discussion Forum
Discuss Dead Hooker in a Trunk on our Movie forum!