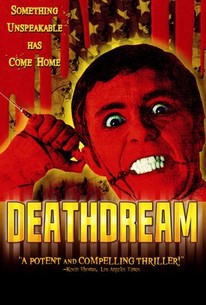 Deathdream
1974, Horror, 1h 28m
12 Reviews
1,000+ Ratings
Rate And Review
Movie Info
When a Vietnam war casualty (Richard Backus) returns to his parents (John Marley, Lynn Carlin), he prowls in search of human blood.
Audience Reviews for Deathdream
Deathdream is a solid, original and creepy horror flick directed by Bob Clark who would later helm the pioneering slasher film, Black Christmas. Deathdream is a solid and effectively creepy horror film. Bob Clark assembles a great cast of actors here, and the story is unique, original and what makes it unique is the fact that the film was one of the first to include the Vietnam War as a subtext for its plot. As a whole, Deathdream is a solid, well crafted horror film. The acting makes this film what it is, and like Clark's other horror classic Black Christmas, Deathdream is full of atmospheric suspense and it works. This is one horror film that every serious horror fan should see. Deathdream like I said uses atmosphere to effectively build the horror, and in many cases that's the key ingredient on building and effective horror film. If a film doesn't have any atmosphere, then the film suffers, and the thrills are poor and it really cheapens the scares of the film. However, Bob Clark does a phenomenal job here at delivering a near flawless film, and the atmosphere is present and what elevates this film are the spectacular special effects by Tom Savini. Deathdream is a different type of zombie film, and it's a refreshing take on the usual zombie flicks that we've seen. Deathdream is unique in that respect. Bob Clark has made a wonderful horror film here. The film is disturbing, and chilling, and that's what makes horror films so much fun to watch in the first place. A classic must see film.

A creepy, effective and genuinely disturbing Canadian low-budget horror cult-classic, well-directed by the late Bob Clark. It concerns young Andy Brooks, intensely played by Richard Backus in a brilliant debut performance, whose simple blank stare at you could make your hair stand on end, he is a American soldier who was thought to have been killed in the of duty in Vietnam, his parents and sister even received a hand-delivered telegram from the Army to that fact, overcome by grief the family tries to go sleep, but later that night strange noises lead the family downstairs to see Andy standing silently in a dark corner of a room. suddenly despair turns into to joy, the father who is played superly by John Marley, informs his son that the Army had said he had been killed, "that my son was dead," Andy looks at his father and replies "I was!" Taking his answer as a joke they all have a big laugh, the family is just so overjoyed to have him back home, but not for long their joy turns into apprehension as they become aware that Andy is not the same, in fact he is a virtual stranger, who is completely emotionless, and does not eat, hardly talks, and his answers to questions are quick and short, he seems to be totally devoid of all humanity, but things really take a turn for the worse when some locals turn up brutally murdered and missing blood, because of his inhuman condition Andy must have blood in order to survive, for he is a Zombie vampire who cannot control his bloodlust. Special kudos must go to Lynn Carlin for her heartbreaking performance as Andy's devoted mother, who is in total denial of her son's monstrous state and horrific deeds, she is completely blinded by her love for him. A vastly underrated film that is atmospheric and gripping. Highly Recommended.

A nice little spooky thriller that is a bit tame but features Tom Savini's first make-up work on screen and with the good script and effective score and acting most horror fans will enjoy "Deathdream".

After being informed by the army that their son had died in Vietnam, the boy suddenly shows up at the family's door, a little bit changed... Original premise at the time, but has been done better since; not sure how Vietnam vets will feel about being depicted as soulless killing machines.
See Details