Dead of Winter
(1986)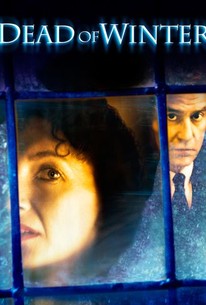 Movie Info
Despite its relative failure at the box office, this is a worthwhile thriller from the director of Bonnie and Clyde. Mary Steenburgen stars as an actress, Katie McGovern, lured to the upstate New York cabin of crazy Dr. Joseph Lewis (Jan Rubes), a diabolical crippled shrink playing a blackmail game with the ruthless sister of a recently murdered woman, who happened to be a dead ringer for Katie. Lewis and his creepy assistant (Roddy McDowall) keep Katie captive, videotaping her and cutting off her finger to further their sordid plot, while she tries desperately to get away. As the title implies, Arthur Penn gets a lot of atmosphere out of the remote cabin and a raging blizzard, and the cast is terrific. It all falls apart eventually, but is quite gripping until the required histrionics in the silly final reel.
Critic Reviews for Dead of Winter
Audience Reviews for Dead of Winter
½
Have you ever watched those film that you really wanted to love so much but can't because it was so badly made? Well this is one of them. "Dead Of Winter" was directed by Arthur Penn who made some really good movies back in his day (The Left Handed Gun, The Miracle Worker, Bonnie & Clyde, Alice's Restaurant, Little Big Man, Night Moves, Four Friends) makes a crappy Hitchcock-like picture (well actuall it's a remake of the 1945 film "My Name Is Julia Ross") and the results is boring and badly laughable. The movie stars Mary Steenburgen who plays three roles in the film. An unidentified woman (who reminded me of the getup Karen Black wore in Hiitchcock's "Family Plot") drives to a train station on New Year's Eve to retrieve a bag full of cash. Later that night, she is strangled, and her left ring finger is removed. The story fwds to NYC. Katie McGovern (Mary Steenburgen) is a struggling actress who lives with her husband Rob Sweeney (William Russ) and her brother Roland (Mark Malone). At an audition, Katie meets Mr. Murray (Roddy McDowall) and hires her immediately. The pair drive upstate into a raging snow storm. When they arrive at the home of Dr. Joseph Lewis (Jan Rube), he greets Katie from his wheelchair. He gives her a tour of the house, including two big stuffed polar bears. Katie asks to use the phone to call Rob but finds it has no dial tone. Dr. Lewis explains that Katie has been hired to replace Julia Ross an actress who had a nervous breakdown during a film shoot. The following day, Mr. Murray tries to drive Katie into town to make her phone call, but his car will not start. Mr. Murray then cuts and dyes Katie's hair to match the photos of Julia. Katie asks him how he met Dr. Lewis. Mr. Murray explains that Dr. Lewis was his psychiatrist. The shoot goes well. Katie's lines are all about the attack seen at the beginning of the film. Back at the house, she demands to know what is going on. Dr. Lewis pretends her imagination is running wild. Katie thhen gets drugged after drinking hot chocolate Mr. Murray gave to her. When Katie awake she sees that her left third finger has been removed. She manages to call Rob and tries to tell him that two men is trying to kill her. The rest of the plot involves crazy devices of how Katie could have easily escaped while being a victim, the terrible dead body of ulia Ross (the filmmakers could have at least make it look real) and the funniest and most ridiculous scene involving two dumb founded cops who sees nothing wrong with Katie's fingers being sliced off. This is terrible filmmaking and probably should have been made for TV instead. I was also thinking, well, would Arthur Penn's film worked better in b&w? Who knows. I guess i'm really picky here because I was expecting a perfect thriller in the realms of "Night Moves" but I got...the dreadful "Dead Of Winter" instead.
I saw this on TV not too long ago, it could have been a good thriller, but it lacks enough twists and turns and excitement. The story is predictable, and although there is a good cast, no one really stands out. I guess this movies is okay, though, it wasn't too bad.
Anthony Valletta
Super Reviewer
Dead of Winter Quotes
There are no approved quotes yet for this movie.