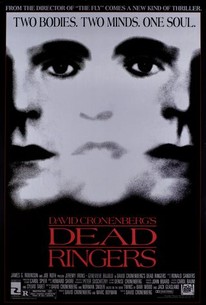 Dead Ringers
1988, Horror/Drama, 1h 55m
43 Reviews
10,000+ Ratings
What to know
critics consensus
Dead Ringers serves up a double dose of Jeremy Irons in service of a devilishly unsettling concept and commandingly creepy work from director David Cronenberg. Read critic reviews
Where to watch
Rent/buy
Rent/buy
Subscription
Rent/buy
Rate And Review
Movie Info
Elliot (Jeremy Irons), a successful gynecologist, works at the same practice as his identical twin, Beverly (also Irons). Elliot is attracted to many of his patients and has affairs with them. When he inevitably loses interest, he will give the woman over to Beverly, the meeker of the two, without the woman knowing the difference. Beverly falls hard for one of the patients, Claire (Geneviève Bujold), but when she inadvertently deceives him, he slips into a state of madness.
News & Interviews for Dead Ringers
Audience Reviews for Dead Ringers
The film is always compelling and Jeremy Irons does a great job playing two identical characters who are just a tiny bit slightly different, but it becomes hard to care when we see how contrived everything is in a script that wants them to go nuts for some artificial, lame reason.

Jeremy Irons plays identical twins Elliott and Beverly Mantle in David Cronenberg's 1988 film "Dead Ringers." The Mantle brothers are both renowned gynecologists in Toronto who specialize in female fertility. The film is based off the book "Twins" by Bari Wood and Jack Geasland based on the real life twin physicians who died of barbiturate withdrawal in their New York apartment. The film was even called "Twins" after the novel until Ivan Rietman bought the naming rights for his film starring Arnold Schwarzenegger and Danny DeVito. Elliott is the older of the two and often refers to Beverly as "little brother." Irons portrays Elliott with a smugness whose so snarky you just want to smack him, but as Beverly, he is shy, not very confident and almost intimidated by Elliott. We learn early in the film how Elliott seduces his clients and once he becomes bored with the women passes them on to Bev, who pretends to be him, sometimes unknowingly to these women. Things become complicated when a movie star named Claire Niveau (Geneviere Bujold) is passed on to Bev and Bev develops feelings for her. Claire doesn't know that he's twins and that he and his brother ultimately share everything. After confronting the two of them together in a restaurant she leaves in anger and this is the first time in the whole film where Elliott actually shows any compassion for his brother as he starts to cry. Beverly reunites with Clarie and they start a relationship but he becomes troubled when she leaves Toronto to shoot another picture. He becomes absolutely paranoid and delusional and believes his brother is sleeping with her until he calls her hotel room and her gay manager answers to which he describes her as a "mutant woman." He realizes he's been hiding from the wrong person and goes back to his brother and starts abusing drugs and throwing himself into his work. He develops tools to work on these "mutant women" and as a result he and his brother lose their license. Elliott now tries to clean Beverly up but ultimately ends up taking the same drugs his brother is taking in an effort to sync their bloodlines up. Irons ultimately landed the role after it was turned down by both Robert DeNiro and William Hurt, and to be fair, it's hard to imagine anyone else in these roles. Irons even had two separate trailers and wardrobes for each character and while the audience will be confused as to which brother is which, Irons himself has said that during filming he became aware that the whole point of the story was to be confused as to which twin he was. He decided to use an acting technique that was nearly a century old by the time Irons used it called the Alexander technique, which is an educational process that teaches people how to avoid using unnecessary muscular and mental tension because a person's self awareness may be incorrect. This technique allowed Irons to "look different" when playing the twins by providing much of his weight on either the balls of his feet or his heels depending on the character. Shots of Irons as the twins was filmed using computer-controlled moving-matte photography. At no time in the film does it not look as if there was only one Irons as shadows and lighting flawlessly look realistic in those scenes. This is a extremely disturbing film that only Cronenberg could have pulled off. The creepy relationship that the twins have is also homoerotic as it's implied Elliott vicariously lives through his brother's sexual exploits imagining he's there. The twins may be two separate people, but they possess one soul. And each one of them can't stand the thought of being alone. Many times through the film, Elliott mentions he wouldn't be where he is today with Beverly's work and Beverly quite possibly wouldn't be where he is without Elliott taking care of him.

As come to be expected, this is another strange tale from David Cronenberg. Featuring brilliant performances from Jeremy Irons and Jeremy Irons).

7.0/10 The only thing saving "Dead Ringers" from mediocrity is its director, David Cronenberg. Here is a thriller that isn't necessarily ingenious, influential, or emotionally unforgettable; yet it's thoroughly engaging, well-acted, and visually interesting. Cronenberg has a fascination of many things, some disturbing, some acceptable to a good part of society (see his more "modern" pictures). Yet, he has remained intelligent throughout his entire career, whether his films are good or not (by my standards and opinions). This film is both disturbing and thought-provoking. I liked it because Cronenberg was daring, took directions that many other filmmakers would have not, and creates a pretty fascinating film out of it all. It certainly isn't perfect, or even, or particularly drenched in payoff, but I found it an entertaining, and so will you, as long as you can suspend your disbelief and go with what the filmmaker has going here. Cronenberg almost effortlessly injects his style into the material, and takes it to new heights. It wasn't pleasant, but it wasn't meant to be. If I'm meant to critique films based on how much I enjoyed them as well as how good they are, for what they are; then "Dead Ringers" gets all that it deserves. The subject matter may be enough to send you packing - or running - out of the nearest place of viewing. The film opens with the Mantle Twins, Elliot and Beverly (both played by Jeremy Irons) talking about sex, and at a young age. They even go up to a girl and ask for sex, prompting her to get up and leave the situation. She then threatens to tell her father, the darned tattle-tale. It would appear that the brothers had been fascinated with sex, the organs involved in it, and the human element within for their entire lives. Shortly after the opening sequence, we see them grown up, many years later; both successful gynecologists. If you didn't know, that's a term used to define those who study the female sexual reproductive organ. They are happy as their lives go on; Elliot is energetic and seduces many of his patients, eventually getting bored of them, thus sending them to Beverly for sex. Beverly is shy and uncertain; and when one very special, important patient (Genevieve Bujold) discovers that Elliot has performed the mention routine with her, she is furious and chooses to scorn Beverly, the poor bastard. This leaves the more emotionally vulnerable of the twins to suffer from drug problems, anxiety, and deep depression. Love has hit Beverly with a poisonous dart; plaguing his intellectual mind forevermore. All of this happens in the film's second and third acts; leading up to a conclusion that is completely Cronenberg-esque in its delivery and in its style, but completely lacking in emotional resonance. I liked watching the film, and the story is well-told by the director, who specializes in stories like this one to begin with; but I cared more for the seduced, deceived women than I did any of the two twins. That isn't to say that they weren't good characters, I just think they need more focus and development. Some will disagree; but then again, it's better than disagreeing completely with me and my opinions on the film. Some of you might hate it, and then some of you, like me, might find it somewhat fascinating and intriguing. There's no masterpiece to be found here, but there seldom is with these kinds of films. I really hope that this film finds a wider audience. It deserves one. While I certainly agree with SOME - and just "some" - of the criticism regarding it, there's enough hypnotic, stylistic substance to the film that allowed me to enjoy it for all its disturbing whimsy. It is divisive critically, yes, but there's something about it that makes it more than it probably should be. Cronenberg fans will not be disappointed, as they will instantly notice that director's trademarks (creepy body-horror dream sequences, sexual narrative themes). As for anyone else, go in with an open mind. There's little to regret through watching the film, since if you know this filmmaker well, you'll be able to endure "Dead Ringers". I've seen better and I've seen worse (out of Cronenberg). Why complain about a few bruises on a very, very overall satisfactory product?
See Details