Dead Space: Aftermath
(2011)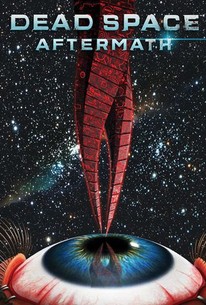 AUDIENCE SCORE
Critic Consensus: No consensus yet.
Dead Space: Aftermath Photos
Movie Info
Experience the horrors that unfolded on the Aegis VII through the eyes of the four surviving crew members who witnessed sights that would drive the average person insane in this shocking sequel based on the sci-fi survival horror video game of the same name. The year is 2509. When Earth loses contact with the USG Ishimura and Isaac Clarke, the USG O'Bannon is dispatched to investigate. Soon, the signal from the USG O'Bannon vanishes without a trace as well. When the USB O'Bannon is recovered, only four crew members remain, and none of them can recall what happened to their fellow crewmembers. But the horrifying truth is about to be revealed, and when it finally is, space will never feel safe again.
Critic Reviews for Dead Space: Aftermath
All Critics (2) | Fresh (1) | Rotten (1) | DVD (2)
It isn't anything more than a terrifying story of survival, in which we see the same even from different perspectives. That's it. [Full review in Spanish]
The sort of amateurishly crap 3D CG animation that you expect to see for free on YouTube . . .
Audience Reviews for Dead Space: Aftermath
½
VERY Aliens meets Resident Evil. Aftermath of course takes place after the original Dead Space and Downfall, but this time there are two antagonists. The USS O'Bannon is sent to the planet of the Necromorphs to retrieve shards of the artifact from Downfall only to face predictable disaster on the way. The four survivors retell their harrowing escape to the authorities who rescued them. I'm definitely a fan of this series and was impressed once again with how the creators of this series took a rehashed and reused story but executed it quite well. I love that this film could've been filmed live action and nothing would need to be changed. This film was also very reminiscent of Gotham Knight in how each of the characters' versions of events was animated differently, reminding you that it isn't just a retelling, its the story from someone else's eyes. There's a lot more bureaucracy in this film as well. My only fault with the film was the computer animation. Scenes involving the survivors and their rescuers were done with computer animation which I am not a big fan of. It was a little stunted and unrealistic (not that some of the anime wasn't either..) especially shots of Necromorph victims. Some of their innards looked like chew toys. But all in all, I highly recommend this film for people who like survival horror, anime, and survival horror video games. Also, fans of the game will love the shout out to them.
Remi Logan
Super Reviewer
Dead Space: Aftermath Quotes
There are no approved quotes yet for this movie.