Dead Tired (Grosse Fatigue)
(1995)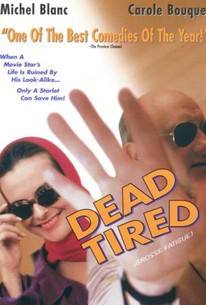 Dead Tired (Grosse Fatigue) Photos
Movie Info
A burned out actor begins to question his sanity in this French comedy that stars the writer/director Michel Blanc in a dual role. In the first role Blanc plays himself as an exhausted actor. He has been doing too much TV and too many movies. Odd things begin to happen and Blanc becomes convinced his sanity is slipping away. He is seen going berserk at Cannes with a series of starlets. At Cannes, he meets festival head Gilles Jacob whom he persuades to give the room number of Gerard Depardieu. After Blanc is accused of attempted rape, he goes to a psychiatrist who prescribes peace and quiet in the country. He goes to the Provencial estate of his friend Carole Bouquet. It is there Bouquet and Blanc meet Blanc's devilish double Patrick Olivier. After a lengthy chase the two sit down and decide that Blanc will take only the high quality roles while Olivier will do the rest.
Critic Reviews for Dead Tired (Grosse Fatigue)
Audience Reviews for Dead Tired (Grosse Fatigue)
In "Dead Tired," Michel Blanc(who also wrote and directed) is arrested for the rape of Josiane Balasko but has no memory of it. This is not the first time something like this has happened to him, as there was also an altercation with a cab driver and Gerard Depardieu's suite in Cannes that he has been linked to but also denied. So, after he gets released from prison, he goes to see a psychiatrist who advises rest which Carole Bouquet is able to provide at her country home in Provence. "Dead Tired" proves the old adage that any movie with a reference to Bunuel will turn out very well. In this case, the movie goes in the opposite direction of typical Bunuel. Instead of a surreal world, it is Michel Blanc who thinks the world is getting stranger around him. But this is not about celebrity as much as the way they are perceived, starting with the two homophobic cops near the start, in that we see what we want to see. And then the movie also has a lot of fun with this. Since Blanc is short and balding, he turns out to be highly neurotic(think Larry David but with a brain) and Carole Bouquet who is as game as all the other actors playing themselves here is shown to be kick-ass because - "For Your Eyes Only." All of which Blanc uses in a very darkly funny look at the then state of French cinema, with the help of a couple of great last minute cameos.
Dead Tired (Grosse Fatigue) Quotes
There are no approved quotes yet for this movie.