Deadly Bet
(1992)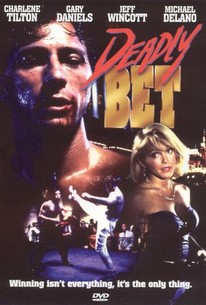 AUDIENCE SCORE
Critic Consensus: No consensus yet.
Movie Info
A luckless kickboxing alcoholic gambler's obsession causes him to use his girl friend as a stake in his latest bet--that he can beat a kickboxing mobster, famous for fixing Vegas matches. He loses, but lacks the nerve to tell her about it and instead continues to make plans to move to Colorado with her. Unfortunately, she finds out and, to get even, moves in with the crook who won her. Meanwhile, the boxer makes another bad bet and ends up working for a vicious loan shark to pay off his resulting debt. He also begins drinking so heavily that he cannot function. He hits bottom soon enough, but then decides to turn his life around and enter a kickboxing tourney with a half-million-dollar prize. The film went straight to video after it was made and features violence and sexual situations.
Rating:
R
Genre:
Directed By:
Written By:
In Theaters:
On DVD:
Runtime:
Studio:
PM Entertainment Group Inc
Cast
Critic Reviews for Deadly Bet
There are no critic reviews yet for Deadly Bet. Keep checking Rotten Tomatoes for updates!
Audience Reviews for Deadly Bet
½
Viva Las Vegas! The bright neon lights help enrich this wonderfully attractive city. Players from around the country (and the world) make dangerous bets for the thrill of it all. Caught in the middle of the Vegas spectacle are an ordinary man, Angelo (Jeff Wincott) and his girlfriend, Isabella (Charlene Tilton). Both of them hope to escape from the high energy madness. Unfortunately, you know who has one last bet to make... In the harsh, brutal world of illegal kickboxing, Rico Daraby (Steven Vincent Leigh) controls all of these underground kickboxing bouts. Angelo thinks that he can tear Rico apart so he decides to challenge him to a kickboxing match. Idiotically, the supercilious Angelo has put up his life savings in his favor...and that shall cost him dearly... Within a few minutes, Rico ends up making a travesty of a mockery of a sham out of Angelo. Angelo finds himself beaten horrendously by Rico thereby losing the bet. That should not matter, just as long as Angelo and Isabella have each other. WRONG! That is not the worst of this at all. There is so much more to this predicament... Sadly, Angelo foolishly puts up his girlfriend as collateral (yup, you read that right). When Isabella finds out about being set up this way, let's just say she took it pretty well. Yeah right! Actually, Isabella is quite furious, thank you very much. She then leaves Angelo by giving him a cruel slap on the face. Ouch! Anyway, Angelo turns out to be both a drunk...and a degenerate! Angelo tries to drink his problems away, but he knows that this is not the right solution to all of his problems... Unexpectedly, both Rico and Isabella are kicking it back, enjoying a luxurious lifestyle. Meanwhile, Angelo is desperately trying to pay off all of his debts by doing some dirty work on behalf of mob boss Greek (Michael DeLano) and his assistant, Johnny (Mike Toney). To make matters even more dismal, just about everyone else is out to kick Angelo's rear end! Angelo, the alcoholic martial artist discovers a way to redeem himself. He must compete in a one-on-one, kickboxing tournament where 50 individual fighters have their eyes on a prize worth half a million dollars! This tournament is maintained by none other than the vile Rico, who's been the unbeatable champion for the last several years. Angelo has to succeed in this tournament in order to win back his girlfriend...and his honor. Deadly Bet may seem like pretty much the same old "good guy must triumph over villain" scenario. It's Rocky meets Leaving Las Vegas with a down-on-his-luck gambler going up against insurmountable odds to win back his girl. Deadly Bet may be a Rocky clone but compared to many of its genre peers, this film rises above the competition thanks to good acting and a fairly decent script that allows for character growth. Less discriminating viewers will especially enjoy a different twist from the traditional fight-or-die formula. This film is also aided by a believable, low-key performance from Jeff Wincott. Jeff Wincott himself is a highlight of this motion picture. Unlike most B-movie martial artists, Wincott at least has a semblance of a personality and can actually show range as an actor. He is rather compelling as a compulsive gambler and alcoholic who must use discipline and skill to pull himself out of the depths of his own despair. What makes his character even more remarkable is that people can relate to his dilemma. Jeff Wincott did a great job delineating a character who represents the courage and determination of a man struggling to fix himself from destruction and to make ends meet. Though Wincott is sometimes laconic, he has established himself as both an actor and a martial artist. In addition to his praiseworthy acting, Wincott delivers a few impressive martial arts moves when fighting in the ring - or outside on the streets, or in a bar, or by a pool. It's a shame that Wincott couldn't leverage his talents into more mainstream success though he has gone on to guest starring roles in numerous TV shows. One powerful scene has Angelo staring at himself in the mirror, realizing he's really hit rock bottom. Throughout most of the film, Angelo is in complete denial, thinking he's a hot shot. But he couldn't accept the reality that he is a drunk and degenerate. Once he has that epiphany, he begins his long road back to recovery and redemption. He works hard to stay clean and rehabilitate himself. We see a montage of Wincott's character working to get himself back in shape. While that montage is playing, you hear a surprisingly good song called "Right Side of Zero" sang by Daryl Purpose. Though some may think it's a cheesy song, I think it fits the mood perfectly and really captures Angelo's struggle to overcome his demons and become a better person. And maybe, just maybe there is somebody special who can help him do just that. The supporting cast is definitely talented. Steven Vincent Leigh is rather manipulatively charming as the antagonist who shows a soft and tender side towards Isabella. Kudos to the filmmakers for avoiding the use of offensive Asian stereotypes. Leigh doesn't resort to making Rico a Fu Manchu-type villain. Rico doesn't have a heavy foreign accent and doesn't talk in very bad broken English. You will definitely grow to hate Rico, but that's because he's a genuinely smarmy bad guy and not a walking negative racial stereotype. It's cool to see Michael DeLano portray Greek, a crooked but sympathetic bookie instead of his usual role as a stereotypical cop. DeLano's role as Greek is a nice departure for this character actor. Charlene Tilton is also proficient as Angelo's sassy girlfriend who often relies on tough love just to help out Angelo when he's in trouble. This is quite evident when she keeps insisting that they move to Colorado just so Angelo can overcome his gambling addictions. Another interesting perspective in this movie focuses on the realistic relationship between Angelo and Isabella. Isabella wants Angelo to get rid of his gambling habits, yet he resents her for trying to help him. Technically speaking, Deadly Bet is expertly made. The great jazz score helps spice up this film. This film also adds credibility by showing the dark side of the glitz and glamour of Las Vegas. Also, the neat cinematography by Richard Pepin allows the viewer to get a fighter's perspective during several of the matches. There is lots of macho, bone-crunching action in this movie. Some of the fighters also display incredible moves, especially the guy who played Killer Conroy, one of the finalists in the tournament competition. Deadly Bet has a bit more realism compared to other martial arts movies, but the action is always stylish choreographed by Eric Lee. This aggressive movie just happens to have a few socially redeeming values. One is that hard work will pay off. The most notable lesson though is that one should always, as the saying goes, "Bet with your head, not over it." Deadly Bet will satisfy most action fans. The nonstop martial arts battles will keep fans pleased. The story is a slight variation of the "kickboxer with a vengeance" theme. In addition, Deadly Bet contains many encouraging messages of wisdom. And another message of particular importance to be extracted from this film: never put up your girlfriend as collateral under any circumstances. She'll definitely hate you for it. Thanks to Richard W. Munchkin's artful direction and some awesome martial arts exhibitions, Deadly Bet is much better than most expect it to be.
Philip Jon
Jeff Wincott makes a cool performance as a complusive gambler almost loses everything, including his girlfriend, to a ruthless kickboxer. but he must prove his worthiness, quit gambling and beat his enemy in the ring to get his girl back. Hokey setup, granted, but a decent movie with lots of good in-the-ring fighting and local Vegas colour.
Dean McKenna
Super Reviewer
Discussion Forum
Discuss Deadly Bet on our Movie forum!
News & Features