Col Cuore in Gola (Deadly Sweet) (I Am What I Am)
(1967)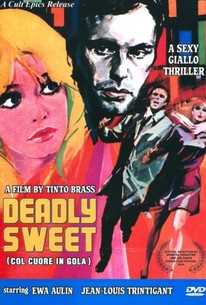 AUDIENCE SCORE
Critic Consensus: No consensus yet.
Movie Info
This Italian-French co-production weds the giallo thriller with pop hipness in a manner akin to Blow-Up, but comes across as a less-inspired variant on the same year's La Morte Ha Fatto l'Uovo. Like that film, Col Cuore in Gola stars Jean-Louis Trintignant and Ewa Aulin in a loud, deranged thriller with hallucinatory visuals, irritating music, and plentiful visual references to kitsch culture. In this case, however, cult filmmaker Tinto Brass (Caligula) has only managed to be grating in telling the tale of a French actor named Bernard (Trintignant), who meets pretty Jane (Aulin) by the corpse of a murdered nightclub owner. Bernard knows Jane didn't commit the crime, and he starts to fall in love with her while running around London to the ear-piercing strains of Armando Trovajoli's score and through the wearingly garish production designs of Carmelo Patrono, who was influenced by the lurid comic-book art of Guido Crepax. Brass edits the film with a jackhammer, occasionally switching from color to black-and-white without apparent motive, and the whole thing looks more like a bad acid trip than the sort of Nouvelle Vague thriller for which he was obviously striving, wasting some fairly interesting cinematography by Silvano Tranquilli. Completists will want to look for an uncredited David Prowse as a hoodlum, and will no doubt be entranced by Ewa Aulin in yet another of the garish pop junk-heaps that comprised her career. She followed this one with the disappointing Candy and the demented Microscopic Liquid Subway to Oblivion.
Critic Reviews for Col Cuore in Gola (Deadly Sweet) (I Am What I Am)
Audience Reviews for Col Cuore in Gola (Deadly Sweet) (I Am What I Am)
First of all, let me say right off the bat that if you don't know who the killer turns out to be in this film you're just plain ignorant. The title says it all really, and perhaps they could've come up with something better than Deadly Sweet for an English language release. I've never really been much of a Tinto Brass fan. I've scarcely seen any of his work outside of the much-maligned Caligula, so I went into this not really knowing what to expect. What I got was an art film disguised as a murder mystery, and not a very good one. People keep calling it a giallo, but that's just not befitting for it at all. It's an exercise in art filmmaking with a lame story, puncuated by fast cutting, pop art graphics and an almost knee-jerk use of vibrant colors. Sure it's pretty to look at, the fast cutting is almost exhausting to take in at times and it's artfully well-made, but it just fails as a commercial film trying to tell a story - which is what it was originally aiming at. It's supposedly a rip-off of Blow Up, but I haven't seen that yet to either agree or disagree. All I know is that it is neither a good murder mystery, nor is it a good giallo. It's an art film, and if you can look past its lack of storytelling, you might get something out of it.
Tim Salmons
Super Reviewer
Col Cuore in Gola (Deadly Sweet) (I Am What I Am) Quotes
There are no approved quotes yet for this movie.
Discussion Forum
Discuss Col Cuore in Gola (Deadly Sweet) (I Am What I Am) on our Movie forum!