Dear God No!
(2011)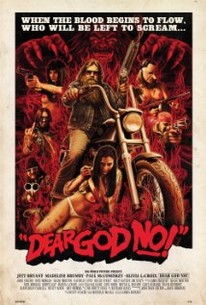 AUDIENCE SCORE
Critic Consensus: No consensus yet.
Movie Info
Outlaw motorcycle gang The Impalers tri-state rape and murder spree ended in a bloody massacre with rival club Satan's Own. The surviving members sought refuge in a secluded cabin deep in the North Georgia mountains. What first must of seemed like easy prey for a home invasion, became a living nightmare of depravity and violence. A young innocent girl being held captive may hold the key to the twisted secrets locked in the basement and the killing machine feasting on human flesh in the forest outside.
Rating:
NR
Genre:
Directed By:
In Theaters:
Runtime:
Studio:
Big World Pictures
Critic Reviews for Dear God No!
All Critics (1) | Fresh (0) | Rotten (1)
Works as an ode to grindhouse and trash cinema but ultimately crumbles under the weight of critical thinking.

Audience Reviews for Dear God No!
The first act is absolutely horribly edited, some of the worst professional work I've ever seen in that aspect. And it doesn't pick up massively afterwards. I'm glad Gridhouse Revival is a thing, but Dear God No! is not a great example of it. For the most part they embrace the deliberately terrible qualities and play the exploitation almost entirely for laughs (seriously there is a ten minute sequence with a trio of Nixon strippers) but there is a scene in the middle of pretty traumatising sexual violence, which is so drastically juxtaposed to the light-hearted attitude of the style that came before it and after that it's actually really uncomfortable. Not in an "Oh what a great movie, it made me feel something way." More of an "Ew I'm really not sure what inspired this choice stylistically, should I turn this off now?" way. But there's some humour, some bad gore and some Supernatural-Nazi jazz going on in there too, so if that's your sort of thing then I guess you could do worse than Dear God No! ...If you tried really hard.
No holds barred grindhouse. It has style and there's novelty here. It's also fun at times. But that's all it delivers. The dialogue is too C-movie level. Exploitation includes rape, nudity, violence, and gore.
Mad Martigan
½
My first impression of this parody of 1970's biker, thrill-kill drive-in horror movies, was that it's MISOGYNISTICALLY PUERILE (derived from the Latin, "puer", meaning child, boy). It was as alarmingly bad as any film that I've accidentally sat through when I snuck into the drive-in during my high school days in the 70's. It would be better to have Joe Bob Briggs review this film. But having said that, from a spiritual perspective (and a feminist perspective), I very much appreciated that all of the 31 sets of breasts were natural - no implants! From a conspiracy POV, we have an old NAZI scientist, well-played by Paul McComiskey, ruining the flora and fauna by messing around with DNA-type experiments, as many old NAZI's tend to do these days. Despite the extreme schlocky acting, I liked Madeline Brumby's performance as the NAZI scientist's nerdy, repressed daughter. Brumby's special scene with her undead mother, well played by Olivia LaCroix, was very engaging. Shane Morton's special effects gore was effectively very 70's and reminded me of 2,000 Maniacs by Herschell Gordon Lewis, which I've avoided seeing. As an actor, he perfectly nailed his scenes a few times. Official Movie Website: http://www.deargodnomovie.com/ http://www.moviereviewsfromaspiritualperspective.com/2011-arizona-underground-film-fest/dear-god-no-
Jean Jessup
Dear God No! Quotes
There are no approved quotes yet for this movie.