Dear Wendy
(2005)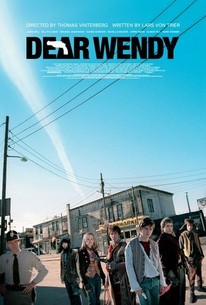 Movie Info
The contradictions of America's simultaneous love and fear of violence go under the microscope in this drama from Danish filmmaker Thomas Vinterberg. Dick (Jamie Bell) is a timid young man growing up in a mining town where he's been deemed to frail to work with the other men. Dick is given a toy gun by a girl who works in a dime store, and he becomes fascinated with the weapon -- especially when it becomes clear that the gun isn't a toy after all. Dick and a handful of other local misfits who are also interested in guns form a gang called "the Dandies," a band of self-styled pacifists who make it their policy to never use their weapons as they lead the town's young people by example. However, as their obsession with firearms grows, Dick and his fellow Dandies are approached by local police chief Krugsby (Bill Pullman), who asks them to look after Sebastian (Danso Gordon), the violent son of Dick's maid Clarabelle (Novella Nelson). At first, the Dandies see this as a challenge to bring Sebastian over to the cause of nonviolence, but soon his influence begins to impact Dick and his compatriots, with devastating results. Scripted by Lars von Trier, Dear Wendy received its North American premiere at the 2005 Sundance Film Festival. ~ Mark Deming, Rovi
Critic Reviews for Dear Wendy
Audience Reviews for Dear Wendy
I was expecting a little more. I can't say that I was disappointed, but I thought that there could have been more to the plot. Some of the special effects work well with the movie, and play into its slightly dangerous charms. Something that's worth a look, I just wouldn't consider this an idie classic.
Cynthia S.
Super Reviewer
½
Jamie Bell, Michael Angarano, Allison Pill, Bill Pullman, Chris Owen, Mark Webber, Danso Gordon, Novella Nelson DIRECTED BY: Thomas Vinterberg When a young loner named Dick discovers a handgun, he finds himself strangely drawn to it despite his pacifist views. Soon he forms a secret club with other misfits in his town who collect and revere antique guns and call themselves the Dandies. But despite their firm belief in the most important Dandy rule of all - "never draw your weapons" - they eventually discover that some rules are meant to be broken. One of the oddest but yet amusing movies I have seen. It all seems very silly. But it's also so different from any film I have ever seen. I felt like I was watching a Western. Especially in watching the ending. The only thing missing was some tumble weeds blowing by. Most of the acting was good. Love Jamie Bell. Thought Michael Angarano was quite funny and quirky. I loved that they used The Zombies as their soundtrack. Great stuff. This movie is interesting and one of a kind. Should be seen.
♥˩ƳИИ ƜѲѲƉƧ♥
Super Reviewer
½
Apart from a few moments of jarring reality - this whole film seems like one of the brief dream like sequences from some of Lars Von Trier's earlier films. The story is grounded in the mundanity of modern youth, but uses a contrived Western style backdrop to extract it's rites of passage plot and at times elements of shocking brutality are numbed by the histrionics employed in delivering them. The use of sets and choice to place the story in an old mining community, the Zombies heavy soundtrack and the use of solely modern-looking cars takes the film away from reality slightly placing it in a timeless environment by nature of conflicting periods. Centrally the characters dress and sense of honour as well as there insistence on using old fashioned guns is an interesting study in today's youths obsession with "retro" and also the contradiction of guns and pacifism is reminiscent of modern teenagers left wing crusades conflicting with their obsessive consumerism. The supporting performances are solid, if a little too mannered, but Jamie Bell's protagonist is difficult to place - quite spiteful and too disaffected to consider the fatal consequences of his actions. All in all this is an enjoyable film, with a none to0 subtle nor fresh, but always relevant message at the end that lacks the cold, bleak reality of some of Von Trier's and Vinterberg's earlier work. Still as a starting point for someone looking to get into the work of the aforementioned talents, this is a more accessible and light piece that won't leave you breath taken or thinking to much, but that's definitely worth a relaxed perusal.
Cassandra Maples
Super Reviewer
Dear Wendy Quotes
There are no approved quotes yet for this movie.