La Muerte de un burócrata (Death of a Bureaucrat)
(1966)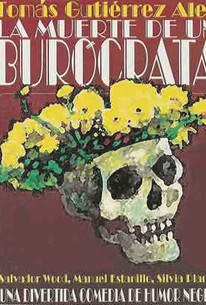 AUDIENCE SCORE
Critic Consensus: No consensus yet.
Movie Info
The Cuban Death of A Bureaucrat involves the demise of an inventor, who had developed a machine to mass-produce statuettes of Cuban hero Jose Martin. Unfortunately, the inventor is buried with his union card in his pocket. Unable to collect any pension money without that card, the widow attempts to exhume the body. Her hands tied by red tape, the widow is forced to rob her husband's grave. These morbid proceedings are treated as hilariously as any slapstick two-reeler or French bedroom farce by director Thomas Guttierez Alea. In tweaking the nose of Cuba's bollixed-up government, Alea condemned his film to the censor's scissors, though Death of a Bureaucrat was released intact outside of its own country of origin. ~ Hal Erickson, Rovi
Audience Reviews for La Muerte de un burócrata (Death of a Bureaucrat)
[font=Century Gothic]"Death of a Bureaucrat" starts with the funeral of Francisco Perez(Manuel Estanillo), a sculptor of patriotic busts in Cuba who also invented a machine to mass produce them. So fondly is he remembered by his comrades as a true proletariat, that he is buried with his work card. That gesture presents a problem for his nephew Juanchin(Salvador Wood) and widow(Silvia Planas) who needs the work card if she ever wants to see any of his pension. Juanchin has no luck at the cemetary trying to exhume the body where he is told to wait two years or get a court order. However, a friendly group of workers are willing to help out. After all, what could possibly go wrong?[/font] [font=Century Gothic][/font] [font=Century Gothic]"Death of a Bureaucrat" is a wildly funny, absurd and playful movie that asks the question: how did this movie ever get made? I mean, revolutionaries are not especially known for their sense of humor. With conflicting reports on Cuban repression, it is hard to know how far somebody could go but the bureaucracy would seem to be a pretty ripe target no matter where you are. Juanchin digs a deeper hole for himself whenever he tries to circumvent the rules which is ironic because all he desperately needs is one person to act like a human being to cut through the red tape and make his life that much easier.[/font]
La Muerte de un burócrata (Death of a Bureaucrat) Quotes
There are no approved quotes yet for this movie.
Discussion Forum
Discuss La Muerte de un burócrata (Death of a Bureaucrat) on our Movie forum!