Death of a Cyclist (Muerte de un ciclista)
(1958)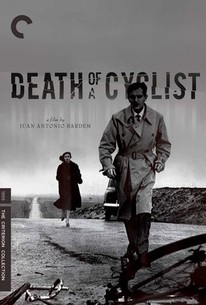 AUDIENCE SCORE
Critic Consensus: No consensus yet.
Death of a Cyclist (Muerte de un ciclista) Photos
Movie Info
An adulterous couple is forced to take responsibility for their actions in this tense drama from Spanish filmmaker Juan Antonio Bardem. Maria Jose (Lucia Bose) is a beautiful woman whose husband Miguel (Otello Toso) is a wealthy and powerful businessman. Juan (Alberto Closas) is a mathematics instructor at a Spanish college who is distantly related to Miguel, and owes his position to Miguel's influence. Juan was also Maria Jose's boyfriend when they were younger, and now they're carrying on an affair behind Miguel's back. One night, while driving home from an assignation, Juan and Maria Jose accidentally run over a man on a bicycle; the stranger quickly dies, and the lovers speed away rather than deal with the consequences. But over the next few days, Juan's conscience begins to bother him, and finds it hard to bear the knowledge that he took another man's life. Maria Jose is also troubled, but for different reasons; Rafa (Carlos Casaravilla), a devious socialite, infers to Maria Jose that he knows about her secret life, but she's not certain he he's just speaking about her infidelity or her role in the cyclist's death. A major critical success in Spain, Muerte de un Ciclista (aka Death Of A Cyclist) was released in Europe in 1955, the same year director Bardem published a controversial essay on the decline in Spanish cinema under the rule of Franco. ~ Mark Deming, Rovi
Critic Reviews for Death of a Cyclist (Muerte de un ciclista)
Audience Reviews for Death of a Cyclist (Muerte de un ciclista)
[font=Century Gothic]"Death of a Cyclist" starts with Juan(Alberto Closas) and Maria Jose(Lucia Bose) hitting a cyclist with a car Maria Jose was driving. Juan notices that he is still alive and wants to help but she persuades him to leave. She is married to a wealthy businessman, Miguel(Otello Toso), while Juan is the black sheep of his family, accomplishing nothing on his own, and only gaining his assistant professor position through the patronage of his brother-in-law. In class one day, he reads in the newspaper that the cyclist has died, interrupting a student's presentation. To make matters worse, a member of their social circle, Rafa(Carlos Casaravilla), has been insinuating to Maria Jose that he knows what happened...[/font] [font=Century Gothic][/font] [font=Century Gothic]"Death of a Cyclist" is a compelling drama that explodes out from a simple idea. The movie is well directed and edited, but loses some of its momentum in the second half by laying on its central theme of selfishness a little too thick. But the movie takes the theme of selfishness and uses it as a veiled criticism of the Franco regime which ruled Spain at the time. Remember, that the best govenment serves the people, the worst only concerned with its own interests.[/font]
½
An interesting take on paranoia and suspense in Spanish. The movie resembles Hitchcocks earlly movies in execution, yet lacks in terms of originality and the eccenctric touch of the old master. A novel watch for fans of film noire, just to see a take on the genre that is not American. All in all, an average, that can - but does not have to be - missed.
Henrik Schunk
Super Reviewer
Death of a Cyclist (Muerte de un ciclista) Quotes
There are no approved quotes yet for this movie.