Death Ship
(1980)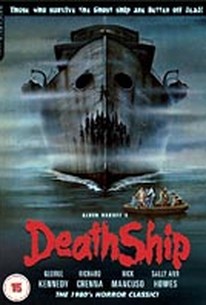 Movie Info
After a passenger liner is rammed and sunk by a derelict German freighter from World War II, the handful of survivors (which include George Kennedy and Richard Crenna) manage to board the unmanned hulk but soon discover that their perils have just begun. Apparently the freighter served as a kind of floating Nazi torture dungeon, and its corridors and bulkheads have somehow become imbued with the very forces of evil that once tormented its captive cargo. When the rather lethargic resident ghosts finally work up the energy to harass their new visitors, viewers are treated to a gallery of decomposing corpses, a supernaturally-triggered case of acne, and the somewhat bland demonic possession of Kennedy, who suddenly declares himself Nazi commandant for a day. This rusty, waterlogged variant on the standard haunted-house theme begins with the interesting premise of ship-as-predator, but provides nothing new in the way of shocks, effects or atmosphere -- and the sleepwalking leads don't help matters either. ~ Cavett Binion, Rovi
Critic Reviews for Death Ship
Audience Reviews for Death Ship
½
A haunted house horror set on a boat this film doesn't really live up to its fun premise, probably down to a limited budget and some dull performances. The idea of a possessed liner sounds cool, especially one that used to be a Nazi torture ship, but the film doesn't help itself by presenting a rather dull group of characters in peril. Also it doesn't really know what it's trying to do. The boat seems to want the new passengers off (within minutes one character is lassoed and literally thrown to his death) but Kennedy (as a possessed Captain) seems determined to keep some on board and deliberately prevents them from leaving. It would have been more fun to see the ghosts but instead we get a lot of doors and windows opening and closing and a rather gratuious blood shower scene that seems to go on forever! It's clear who will survive and even though this was banned during the video nasty campaign there really isn't much gore. Not a classic!
David Sayers
Super Reviewer
Death Ship is a terrific, low-budget cheesy supernatural tale that should definitely appeal to midnight movie horror fans. I thoroughly enjoyed the film, and I feel that this is one of the most underrated films in the genre. The cast do a good job in their roles, even though some of the actors go over the top in some respects (George Kennedy). If you love obscured horror titles, check this film out. I think that this is an underrated film that works well if you end up not caring about how flawed the plot is. The concept is really terrific and it's what makes the film work. Death Ship is a film that is made for a specific audience in the horror genre, and if you're not used to B movies, or cheesy horror yarns, you may want to pass up on this one. However for those who enjoy these types of films, and then definitely seek out this title. The film has enough good things going for it to satisfy the most diehard midnight film fan. The film is an ultimate guilty pleasure, and it's mindless fun, entertainment. As far as obscured horror titles are concerned, Death Ship is definitely one worth checking out. With good gore effects, a decent cast and pretty eerie atmosphere, this is a film that really doesn't deserve all the flack it has received. Ghost Ship is similar in its ideas, but as far as I'm concerned, this is a far better film. This is a film that relies on its atmosphere to create its horror, and in there's some pretty effective horror bits despite the fact that the film won't win any prizes any time soon.
½
Very very silly but some great gorey bits....70 pulp
Barry Lappin
Super Reviewer
Death Ship Quotes
There are no approved quotes yet for this movie.