A Decade Under the Influence
(2003)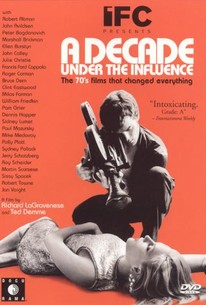 Movie Info
First released theatrically as a 108-minute, R-rated documentary on January 19, 2003, A Decade Under the Influence is dedicated to the proposition that the 1970s was the single most significant decade in the history of the American cinema. To illustrate this thesis, directors Ted Demme and Richard LaGravenese included choice vignettes from such '70s classics as The Godfather, Chinatown, The Exorcist, One Flew Over the Cuckoo's Nest, The Last Picture Show, Taxi Driver, Jaws, and many others. Also featured are in-depth interviews with the filmmakers, actors, and technicians of the period (see the very long, very impressive cast list), all of whom celebrated their "liberation" from the stultifying Hollywood censors and the antediluvian studio system of decades past with an embarrassment of cinematic riches. An expanded version of A Decade Under the Influence was seen as a three-part, three-hour TV miniseries, telecast on cable's Independent Film Channel beginning August 20, 2003.
Critic Reviews for A Decade Under the Influence
Audience Reviews for A Decade Under the Influence
Its a bit too general for my taste . . . and there are some strangely absent personalities. But if you are patient, there are some amusing anecdotes scattered throughout. Also, its rather fitting (and more than a little moving) that just about everyone acknowledges that Hal Ashby was the real king of the 70s . . his steady hand in the director's chair produced some the decades greatest films.
Alec Barniskis
Super Reviewer
Tim Salmons
Super Reviewer
½
a fantastic doc about the young filmmakers who stormed hollywood in the seventies, producing a huge number of startlingly original films. directors like altman, hal ashby, scorsese and coppola along with so many others changed the way we watch movies forever in a decade when for once art ruled over commerce; a happy consequence of the breakup of the studio system, the meltdown of the sixties, and the influence of a generation of foreign filmmakers. it's sad we seem to be stuck in a decade of endless remakes and sequels that's all about the box office...
Stella Dallas
Super Reviewer
A Decade Under the Influence Quotes
There are no approved quotes yet for this movie.