Decoding Deepak
(2012)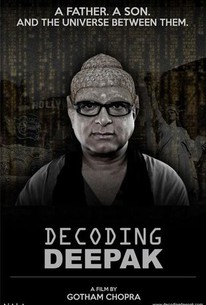 Movie Info
Film-maker and journalist Gotham Chopra embarks on a year long roadtrip with his father Deepak Chopra in an attempt to resolve the spiritual icon he is to the world vs. the real man known to his family. From devoted disciples that range from Lady Gaga to lost souls searching for themselves in the red rock deserts of Sedona, Gotham begins to paint a raw portrait of his dad that only a son can. The film travels across the planet chronicling colorful Deepak activities - from a traditional monk ordainment in Thailand to a literal decoding of ancient family registers in rural India. On the homefront, Gotham also takes a closer look at the expansive spiritual empire his father has built over his 25 year career that initially was conceived out of Deepak's own deep personal and spiritual dissatisfaction, and a decidedly non-spiritual (and boozy) origin. -- (C) Official Site
News & Interviews for Decoding Deepak
Critic Reviews for Decoding Deepak
Audience Reviews for Decoding Deepak
8/10...people who saw nothing in this movie, weren't paying attention...and anyone who is no longer buying deepok's books because of this movie were buying them for the wrong reasons in the first place...he is a man, flawed like the rest of us...he is a voice of truths, his being flawed does not change that truth is truth, all truth comes through human beings...it is clear he struggles like everyone else with living out the philosophies he subscribes to...gotham does an excellent job not poking fun at his dad, it is not a mean spirited film, but one definitely senses the turmoil still going on inside him with respect to his feelings about his father, what he wished his father was, what he wishes his father to be now...he says he does not grasp completely all these ideas that his father is so vocal about, it is true that we model and love people to new places and ideas, and deepok's behaviors sometimes run counter to his philosophies...there are ways to parent and befriend and encourage children and family and friends to be open to things they do not understand...the language deepok speaks is a language i completely understand, even the much revisited theme of "detachment," but unlike gotham, my children have never felt i wasn't "present," even when i wasn't physically with them, deepok often seems not present as he speaks of presence...deepok has work to do, and i think a film made by gotham may be just the thing to cause some movement in the direction of that work...we took our 3 children, ages 10, 13, and 17...they loved it and it led to great discussion on the drive home from the theater.
gail shingler
½
My dad despised this movie because he hates Deepak Chopra. I think it's enjoyable regardless of what you believe. It's not some advertisement for Chopra's belief system, nor is it an attack on it. It's a story about a son who tried so hard to understand his father and wants to keep trying, but can't quite pick at his brain. Deepak was almost never there for Gotham; he cared more about his image and making rounds than his family. Gotham doesn't want to repeat these mistakes with his son. It's just a very fascinating and well done documentary.
Andrew Haworth
Decoding Deepak Quotes
There are no approved quotes yet for this movie.
Discussion Forum
Discuss Decoding Deepak on our Movie forum!