Dead Sushi
(2013)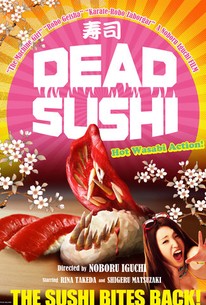 Movie Info
Keiko (Rina Takeda) is the daughter of a legendary sushi chef. Hoping to follow in his footsteps, she enters into training under her father's guidance. His kung fu-like regime is rigid, pushing her to impossible mental and physical limits and Keiko, unable to bear the strain, runs away from home. Finding work at a rural hot springs inn, she is dismayed to find that her co-workers are an eccentric lot who have it in for the new girl. Complicating matters is the arrival of a group of employees from Komatsu Pharmaceutical there to sample the inn's famous specialty sushi. Following them in pursuit of revenge is Yamada (Kentaro Shimazu), a medical researcher betrayed by the Komatsu president. Disgruntled and seeking revenge, Yamada injects the hotel sushi with a drug that not only brings it to life, but also turns it into ferocious, bloodthirsty killers! (c) Office Walker
Critic Reviews for Dead Sushi
Audience Reviews for Dead Sushi
Ridiculously campy fun. Deliciously terrifying? Somehow, Iguchi was able to tie everything together in this mess. The acting was actually quite nice, so does the whole premise. It's fun to watch and shows off Japanese culture.
Sylvester Kuo
Super Reviewer
Jacob Palacio
Super Reviewer
Dead Sushi contains everything that is vintage Noboru Iguchi, except the sushi isn't dead. It's alive.
Yes, there is a story and it is as ridiculous as its title, but it does tie all the nonsense together. The 90 minutes do actually flow from beginning to end; it's just laced with everything a family film needs, which is extreme violence, gore, nudity, and grotesque situations.
The CG is of low budget and the violence is incredibly over the top, but that is what makes Dead Sushi as amusing and humorous as it is.
Rina Takeda is a joy. Her personality on screen, blended with her martial arts background, make her a solid lead for this picture. Not to take anything away from Asami, because she ends up with memorable scene after memorable scene. The Robot sums them up quite nicely.
Dead Sushi definitely isn't for everyone, but for it's target audience it is an entertaining sit through.
Dead Sushi Quotes
There are no approved quotes yet for this movie.