Opapatika (Demon Warriors)
(2007)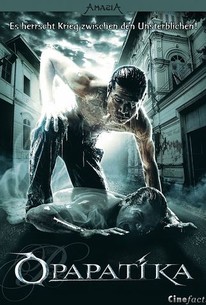 AUDIENCE SCORE
Critic Consensus: No consensus yet.
Movie Info
A man learns a powerful lesson about the price of immortality in this thriller from Thailand. The Opapatikas are a special breed of people who have died only to be resurrected and given special powers; they are invincible in combat, cannot be killed, and gain unique super-human skills. Detective Techit (Putthipong Sriwat) is a police investigator who has learned the secrets of the Opapatikas, and wants to join their underground fraternity; he approaches Opapatika master Mr. Sadok (Nirut Sirichanya) in hopes of turning this dream into reality. Sadok allows Techit to become a Opapatika after the detective takes his own life, but as Techit gains the ability to see into the future, he begins to gradually lose his mortal senses as he does ritual battle with others. Opapatika also stars Somchai Khemglad, Shahkrit Yamnarm and Ray MacDonald. ~ Mark Deming, Rovi
Critic Reviews for Opapatika (Demon Warriors)
There are no critic reviews yet for Opapatika (Demon Warriors). Keep checking Rotten Tomatoes for updates!
Audience Reviews for Opapatika (Demon Warriors)
(** 1/2): [img]http://images.rottentomatoes.com/images/user/icons/icon13.gif[/img] Very good action scenes, but this film is a bit too confusing at times. A near-miss.
TTT C
½
The whole story behind this film was really interesting. But they did not piece it together very well. Through 90 percent of the movie, it leaves you confused. Then finally at the end, it starts to make sense, but you are still left unsatisfied. The only thing to keep you interested would be all the fight scenes. But there was more gun shooting than anything. I wanted to see more fighting with fists and kicks, but there was not much. The story behind it all is that you kill yourself and it is a sin. So you are in a world between reality and Heaven, or Hell. In this world you are granted a special power, but in return for your sin, you have a pain also. For example; one guy has the ability to see all kill points and kill them really fast. In return, he gets a scar on his body where he killed the guy. If you notice, most are by his heart. I admit that each character was kind of cool to see. There powers were interesting, but there was really not that much back story at all to the characters, leaving it hard to enjoy them to the fullest. Basically, what this movie was missing was full out, a storyline. It had the ability to create one, but like I said, it leaves you confused on how they try to do it. This really could of been one great action film if done right.
Paul Celano
Thanakorn Pongsuwan's poor execution leads to the less than stellar action film, Opapatika.
Classified as an action fantasy, this film delivers on both of those aspects in addition to having a great concept behind the story; everything comes with a price. The storytelling on the other hand, is the film's weakness. It is choppy. Not to the point of confusion, but enough to take away the smooth ride for nearly 105 minutes.
There is an ample amount of action as the characters get the chance to put their special abilities to use, along with the help of some welcome effects and plenty of gunfire. The violence also leans toward the bloody side.
While it isn't exactly easy to pick out the hero until the ending of the film, the acting is acceptable all around. Somchai Khemklad, Chakrit Yaemnam, Pongpat Wachirabanjong, and Khemupsorn Sirisukha portray the more notable characters.
Opapatika's unimpressive storytelling does keep the film from becoming predictable, but that isn't enough to make it a strong recommendation.
Opapatika (Demon Warriors) Quotes
There are no approved quotes yet for this movie.
Discussion Forum
Discuss Opapatika (Demon Warriors) on our Movie forum!