Der Scharlachrote Buchstabe (The Scarlet Letter)
(1973)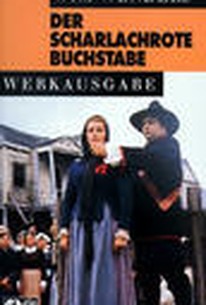 AUDIENCE SCORE
Critic Consensus: No consensus yet.
Der Scharlachrote Buchstabe (The Scarlet Letter) Photos
Movie Info
Wim Wenders' The Scarlet Letter (German title: Der scharlachrote Buchstabe) may well be the most fascinating of the many screen versions of Nathaniel Hawthorne's 19th-century novel. Though the story is set in 17th-century Salem, Massachusetts, the film was lensed in Spain. Senta Berger is surprisingly well cast as Hester Prynne, whose sexual indiscretions have compelled her to wear the letter "A" (for adultery) on blouse--a symbol of shame to her neighbors, but a strange source of pride for Hester. Lou Castel plays the tortured Reverend Dimmesdale, the man who impregnated Hester but whom has been sworn to secrecy by the self-sacrificing heroine for the "good of the community." Hans Christian Blech portrays Hester's long-lost husband, whose reappearance sets the stage for the wrenching climax. Wenders' interpretation of the customs, behavior and inbred bigotry of the early American immigrants is eye-opening, as only an "outsider's" perception of what we take for granted can be. ~ Hal Erickson, Rovi
Critic Reviews for Der Scharlachrote Buchstabe (The Scarlet Letter)
Audience Reviews for Der Scharlachrote Buchstabe (The Scarlet Letter)
½
To hear the cruelest review of this erratic version of Nathaniel Hawthorne's classic novel, just listen to director Wim Wenders' DVD commentary. He'll tell you how it's a perfect example of a difficult "second film." How the story demanded an American setting, but had to be shot in Spain and Germany because of budget problems. How the camera couldn't point through windows and doors, because this would reveal the artificial studio setting. How the cast spoke a wide variety of languages and had to be dubbed in post-production. How the experience permanently soured Wenders on period films. How the awkward costumes make at least one actor stumble onscreen (really, Wim, it's more than one). A flaw Wenders does fail to address is Jurgen Knieper's strangely awful score. Given Knieper's superb work on later projects such as "The State of Things" (1982), "River's Edge" (1986) and "Wings of Desire" (1987), it's baffling how far off the mark the music is here. The problem is particularly glaring in early scenes, where grim, plodding action is accompanied by grandiose swells that seem swiped from the climax of a 1940's romance. What happened? Senta Berger (as the iconic Hester Prynne) is more of a beauty than an actress, but the cast's saving grace is little Yella Rottlander, who plays the stoic daughter Pearl. She communicates sorrow much better than blank-faced Berger, whose runway-ready makeup continually defies the historical era. Wenders himself was so taken with Rottlander that he made her the title character of his next movie, "Alice in the Cities."
Eric Broome
Super Reviewer
Wim Wenders' adaptation of the Nathaniel Hawthorne novel, transposed from Boston to 17th century Salem. Shunned by the Puritan community and forced to wear a red letter 'A' on her breast, as a badge of shame for committing adultery, Hester Prynne stubbornly refuses to name the father of her illegitimate daughter. Her husband, believed lost at sea on his journey to the New World, reappears, establishes himself as a doctor and pledges to discover the identity of his wife's lover, his own true identity concealed from all but Hester. Chief among his suspects is the local pastor, a sickly individual with a tortured soul... Surprisingly for Wenders, the weakest element of Der Scharlachrote Buchstabe is the score, which is one of the most obtrusive I've ever heard, swelling and gushing in all the wrong places, to intensely irritating effect. Always interesting and frequently good, the film never quite achieves greatness and is considerably less emotionally involving than it should be, despite excellent performances from the three principals (Senta Berger, Hans Christian Blech and Lou Castel). It is, however, always lovely to look at.
Der Scharlachrote Buchstabe (The Scarlet Letter) Quotes
There are no approved quotes yet for this movie.