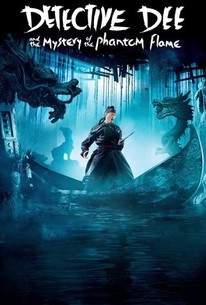 Detective Dee and the Mystery of the Phantom Flame
2010, Mystery & thriller/Action, 2h 3m
55 Reviews
2,500+ Ratings
Where to watch
Rent/buy
Rent/buy
Rent/buy
Rate And Review
Detective Dee and the Mystery of the Phantom Flame Photos
Movie Info
During the Tang Dynasty, China's future empress (Carina Lau) frees an imprisoned detective (Andy Lau) to solve the deaths of two courtiers who burst into flame upon exposure to sunlight.
Rating: PG-13 (Violence|Some Sexuality|Disturbing Images)

Genre: Mystery & thriller, Action, History, Drama

Original Language: Chinese

Director: Hark Tsui

Producer: Peggy Lee, Nansun Shi, Hark Tsui

Writer: Kuo-fu Chen, Jialu Zhang

Release Date (Theaters): limited

Release Date (Streaming):

Runtime:

Distributor: Indomina
News & Interviews for Detective Dee and the Mystery of the Phantom Flame
Audience Reviews for Detective Dee and the Mystery of the Phantom Flame
While guiding a foreign ambassador(Jean-Michel Casanova) through a giant Buddha that everybody hopes is finished in time for Empress Wu Zetian's(Carina Lau) coronation in 689 AD, Xue(Jinshan Liu) spontaneously bursts into flames. The same thing then happens to Jia(Yan Qin) when he and Pei Donglai(Chao Deng) of the Supreme Court report back to the empress with the news. With the food tasters, including the empress' favorite Shangguan Jing'er(Li Bing Bing), working overtime, the court chaplain says there is only one person for the job: Detective Dee(Andy Lau). The bad news is that he was convicted of treason for opposing the empress' regency. The good news is that he is still alive and kicking, literally so, in fighting a band of assassins. Directed and produced by Tsui Hark, "Detective Dee and the Mystery of the Phantom Flame" is an entertaining blend of history(there actually was an Empress Wu Zetian), mystery, intrigue, action and fantasy set in changing times with a resolution that makes a good deal of sense. All of which is in the service of introducing a hero for the ages. While some might say the movie's overall philosophy is kind of like having and eating your cake, too, it also shows that the world is not as simple as first thought, with a couple of relevant comments on the present day, like a neat anti-torture statement. So, while the movie looks great in detailing a past world, it is ironic that its weak point comes in its fight scenes. That has less to do with Sammo Hung, the legendary fight arranger, than with how poorly they are edited and that we are well past the point when we could be amazed by flying martial arts.

An acceptable mystery adventure film with poorly executed action sequences but entertaining.

A wonderful martial arts adventure that keeps a fun and engaging pace. Detective Dee is released from prison in order to help solve a series of spontaneous combustions. He's pretty much the Chinese Sherlock Holmes, but the film does mix fantasy elements as well. Detective Dee is joined by a series of interesting sidekicks, such as the albino member of the supreme court, Pei, and Jing'er a delegate of the Empress. The film has a fantastic ability to conflict characters with their own actions, showing a distinct line between responsibility and choice. The sets and landscapes were breathtaking at times, especially the gigantic statue of Buddha. The film does it all with great adventure sequences, and even has an impressive fight with some CGI deer.

I didn't like this film that much. I just thought the approach to its action and story was really quite goofy and silly. The problem with the action is that, to me, it simply wasn't well shot/edited together. Sometimes you have no idea what the hell is going on with these scenes and most of putting together a good action scene is how you edit it together. Not to mention that this film breaks all the laws of physics. Which isn't really a problem, since countless other films do this but there's something about the action in this film that isn't as graceful as some of the other, more famous, films featuring extensive wiring work. There's something sloppy about it all quite frankly. And I think Sammo Hung does a great job at choreographing fight scenes (see both Ip Man movies for an example of his great work), so I have no idea what the problem was here. I do think the movie, as it nears the end, does start to find its focus and the action scenes do start to get better. Also having actors who didn't have any martial arts training may have hurt them in the long run. The story is, as mentioned, goofy. The reason the villain had for doing what he did was so ridiculous it actually did hurt the film, to me. I think the concept is intriguing enough, but the execution of that concept left a lot to be desired. Again, I point to its goofiness as a detriment. But the film still isn't really that bad though, it just misses the mark on what should've been really focusing on. Telling an intriguing story with some great action. As it stands, we got none of the two. But at the same time I'd say it was an average movie at best. So there is something to work with here, it's just drowned out by the story being silly and the action being poorly edited. I really wouldn't recommend this film unless you must watch every Andy Lau movie ever, in that case then go right ahead.
See Details