Detroit
(2017)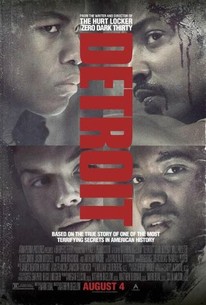 TOMATOMETER
AUDIENCE SCORE
Critic Consensus: Detroit delivers a gut-wrenching -- and essential -- dramatization of a tragic chapter from America's past that draws distressing parallels to the present.
Movie Info
From the Academy Award winning director of THE HURT LOCKER and ZERO DARK THIRTY, DETROIT tells the gripping story of one of the darkest moments during the civil unrest that rocked Detroit in the summer of '67.
News & Interviews for Detroit
Critic Reviews for Detroit
Audience Reviews for Detroit
Using a nervous handheld camera and intercutting what we see with real archive footage to create the same documentary-like feel of her previous films The Hurt Locker and Zero Dark Thirty, Bigelow exposes with gripping realism a revolting chapter in American History.
Carlos Magalhães
Super Reviewer
Something akin to an art house exploitation film, Kathryn Bigelow's Detroit is a pressure cooker about the horror of institutional racism, but it's also a limited drama that lacks any sense of catharsis for an audience. Set among a hellish series of days in 1967, the film follows the events at the Algiers Motel, where Detroit police officers killed three innocent black men in their pursuit of what they believed to be a sniper. An all-white jury then acquitted the officers. Will Poulter (We're the Millers) plays the lead racist cop and instigator, the man who tries using every effort to get a confession. His bad decisions lead to further bad decisions and miscommunication and then cold-blooded murder. It takes a solid 45 minutes to establish the various supporting characters, the fragile tinderbox that is Detroit during a series of riots, and getting everyone to the fateful motel. Afterwards, it's like a real-time thriller that's extremely harrowing to watch. It's very intense and very well made by Bigelow and her go-to screenwriter Mark Boal (Zero Dark Thirty). Like Get Out, it turns the day-to- day American black experience into a grueling horror film. I was squirming in my seat and felt nauseated throughout much of the movie. I wanted to scream at the screen and tell people to stop or run away. However, it's a movie with a lower ceiling, whose chief goal is to provoke primal outrage, which it easily achieves, but it feels like there's little else on the artistic agenda. The characterization can be fairly one-note, especially with the racist cops who stew over white women hanging around virile black males. It's victims and victimizers and we get precious little else. Your blood will boil, as it should, but will you remember the characters and their lives, their personalities, or mostly the cruel injustices they endured? It's an intense, arty, exploitation film, and I can perfectly understand if certain audience members have no desire to ever watch this movie. It's not so much escapism as a scorching reminder about how far race relations have come and have yet to go in this country. Detroit is a movie with plenty of merits but I think it's the least of the three major Bigelow-Boal collaborations. Nate's Grade: B
Nate Zoebl
Super Reviewer
Director Kathryn Bigelow is no stranger to telling true stories in honest ways. Yes, she has made blockbuster films like Point Break in the past, but her current staple is bringing true events to the big screen. Whether it's as simple as a bomb-defusing team in The Hurt Locker or tracking down Osama bin Laden in Zero Dark Thirty, her way of slowly giving the audience what they came for, is even more present in her latest outing with Detroit. Much like I felt about Christopher Nolan's Dunkirk, this film is a very well-executed depiction of an historic event in history, but there are elements that could've easily been tweaked, added, or removed in order to make a better film overall. Here is why Detroit may deserve your time if you know what you're in for. When it comes to films like Detroit, you want to be as accurate as possible, due to the fact that it's a very touchy subject. When I read that one of the focusses of the film would be on a fictional character (played by John Boyega) I was very nervous. Thankfully, his addition was for a specific reason, which I will let you experience for yourself. That being said, this film suffers from a few things at the same time. At its core, this is a movie surrounding an event during the riots in 1967, but the fact that the riots themselves are not in the forefront enough, is exactly what the average moviegoers will be complaining about. Personally, a film about the riots themselves would be a great showcase, but I thought the choice of following particular people to one event was just as thrilling. The biggest complaint that I feel people will have, is the fact that the run time of 143 definitely feels its length. Quite honestly, this film feels like a three hour picture at times, but once the detached storylines finally meet in the middle of the film, the pace picks up quite a bit. Personally, Detroit is a little too long for the story that it tells, but it's not that it's slow. I know I stated that the film feels its length, but that's only because of the fact that takes place in very few locations, with little to no action. This film is all about the inner demons in who is good and bad throughout this city. I found myself incredibly engaged, even though it could've easily been trimmed down to two hours. What also makes this film feel its length, is the fact that you can clearly see the three acts. The first being the riots that build each character up, the second being the incident itself, and the third being the aftermath. The fact that you could see each act begin and end was a big issue for me, because you knew there was still a little or a lot left for the film to showcase. Once again,I found myself incredibly engaged throughout this movie, and everyone delivers fine performances all around, so the content presented in the film itself was very well-done. I just found that they could've tightened the film up and been a little less formulaic. From Will Poulter (who I grew an insane hatred for throughout the film), to John Boyega, to credible newcomers in Jacob Latimore or Algee Smith, the cast of this film gives their all in their portrayals of these figures. Kathryn Bigelow directs with visceral realism, providing shaky cam footage that feels like you're right up in their faces, and film itself provides an interestingly secretive look into a specific event during the 1967 Detroit riots. It's definitely too long, but it really doesn't feel slow, but take from that what you wish, because I can still see how people may find themselves checking their watches. Detroit sets you up for an event and the majority of the film takes place solely at that one location, but I feel that aspect both benefits and hurts the movie as a whole. In the end, Detroit is a very realistic film that sucks you in from the start. As long as you're weary of the run time and are not expecting a film filled with quickly paced rioting in the streets, then you may just find yourself engaged like I was. This is a very solid film worth checking out.
Detroit Quotes
There are no approved quotes yet for this movie.
Discussion Forum
Discuss Detroit on our Movie forum!