Dev.D
(2009)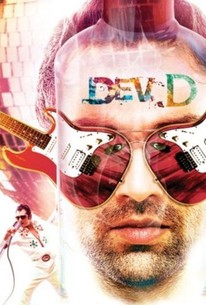 AUDIENCE SCORE
Critic Consensus: No consensus yet.
Movie Info
Previously adapted for the screen by such revered filmmakers as P.C. Barua and Bimal Roy, Anurag Kashyap's Dev D is a contemporary take on author Sarat Chandra Chattopadhyay's popular novel Devdas. Traditionally, the story of Devdas finds the eponymous character, a legendary lover, becoming so despaired at the loss of his true love that he begins to veer down a perilous path of self-destruction. Alternately, this version of the story paints Devdas as a self-pitying hypocrite whose will is so weak that he cannot even summon the fortitude to stand up for himself. The son of a zamindar (tax collector), Devdas longs to marry childhood sweetheart Paro. Unfortunately for the would-be couple, differences in status and caste make the prospect of marriage impossible. Sent to Calcutta as Paro is married off to a wealthy yet aged widower, Devdas meets the prostitute Chandramukhi (Kalki) and ultimately falls into a tragic cycle of excess due to an overpowering sense of remorse.
Audience Reviews for Dev.D
'Dev-D' is a modern retake of the much re-filmed classic Indian novel, 'Dev-Das'. This radical experiment from director, Anurag Kashyap, who completely reinvents the traditional musical drama, tells the story in a contemporary fashion defying almost every boundaries set by the traditional Bollywood, without overcooking it.
½
DevD is a movie about lust, sex, loyalty and love in all its imperfections and complexities. Abhay Deol stars as Dev, a spoilt rich boy who returns home to Punjab after a graduation abroad, but has little in terms of future plans, except for getting into the sack with his childhood friend Paro, with whom he's spent many a long night talking dirty on the phone. On learning from a local village sleazy scumbag that she might have had a promiscuous past, Dev rejects Paro and her advances, driving her to marry a man she doesn't love, and landing himself in a downward spiral of booze, drugs and prostitutes. As Dev and Paro part ways, a traumatized Chanda enters the equation, a teenaged girl who becomes ostracized by her family and friends due to explicit filming of her by her boyfriend. Of her own free will she becomes a hooker in Delhi's famous Pahar Ganj area and the one Dev hooks up with in his desperate, despondent phase. There is absolutely nothing likable about the narcissist Dev. It seems that women were intrigued by his bad boy vibe and he is portrayed as the ultimate spoiled brat but how can a viewer have any sympathy for a character who doesn't even have a single likable trait about him? I watched this movie not knowing what to expect but I was pleasantly surprised at how it captured and held my interest throughout. I found it bold, brazen and at the same time dark and depressing but I think DevD has given a new meaning to Indian movie making and creativity.
½
The film is a freaking achievement in direction, cinematography, editing and audiography. Rich in content and presentation. Great performances. Sarat Chandra Chatterji would have been proud.
Dev.D Quotes
There are no approved quotes yet for this movie.