Dhoom
(2004)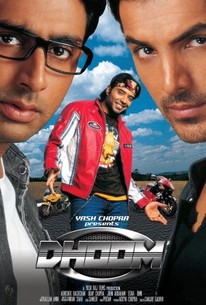 AUDIENCE SCORE
Critic Consensus: No consensus yet.
Movie Info
High-speed criminals terrorize a city, and it's up to one man and his sidekick to bring them down in this action thriller from India. A crime wave hits the city of Mumbai when a gang of daring thieves on souped-up motorcycles, led by the corrupt but methodical Kabir (John Abraham), stage a series of daring and lucrative robberies, then go into hiding posing as pizza delivery drivers. The police have been unable to track down the bandits thus far, so top detective Jai Dixit (Abhishek Bachchan) is given the assignment of bringing them to justice. Jai enlists the help of mechanic and expert motorcycle rider Ali (Uday Chopra), and while Ali's neo-slacker attitude doesn't mesh well at first with Jai's no-nonsense efficiency, they learn to work as a team. But as they begin to tighten the net around Kabir's gang, the clever thief realizes the police are closing in. Dhoom star Abhishek Bachchan also starred in another major Bollywood production, Phir Milenge, both of which received their American debut on the same weekend.
Critic Reviews for Dhoom
All Critics (1) | Fresh (0) | Rotten (1)
Technical sheen is certainly one of the better aspects of the film, but it can only go so far when others aren't quite up to par.
Audience Reviews for Dhoom
Look, this was a well thought out world movie okay?! The kind of movie you wanna watch while you're on an international flight. Although, you should actually watch it in high definition with lossless audio nomsayin?...It's definitely a collector's movie because back in 2004, this movie was all the rage in India, I lived there. John Abraham later appears to be on the fence about everything, not even cherishing his Kerala Christian heritage. That's a little off topic but the good things about this movie is that it re-ignites the "something" that's been put off in India for a long time...in retrospect. The desire for freedom and taking on the big banks, if you will. They get away with it as if it were no big deal. And no, the cheesy parts are only the few songs that are in the movie, except the one during the last robbery scene. There's that special something about this movie that sums up the essence of the 2000s...much better than many hollywood counterparts. Sure, the F&F series were cool but that's all about cars and a broken system...which goes on an on an on but this one is something special.
Sir Coolguy
It kinda takes a bit for the characters to develop. Then it kinda turns in the a wanna be James Bond movie at the end with the stunts. I'm going to call Shenanigans on the M9's effective range though. It doesn't really have as many songs as I'm used to, but they were pretty good. I'll be honest and say I watched this because I wanna watch the second one. But I'm glad that I did.
Sarah Helwig
Interesting movie! Jai is on the search for a group responsible for several bank robberies, and discovers that it is thieves on motorbikes. Along with Ali (a mechanic), he searches for Kabir and his cohorts. Great performance by John Abraham. Great cast- Abhishek Bachchan, John Abraham, Uday Chopra, Esha Deol, and Rimi Sen. Worthy!
Dhoom Quotes
There are no approved quotes yet for this movie.
Discussion Forum
Discuss Dhoom on our Movie forum!