Dinner Rush
(2001)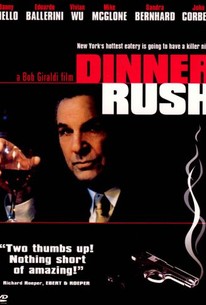 Movie Info
Louis attempts to turn his family-owned Italian restaurant, Gigino Trattoria, into a popular TriBeCa hot spot, with the help of his son, head chef Udo.
People Who Like this movie also like
Critic Reviews for Dinner Rush
Audience Reviews for Dinner Rush
½
The actors here deserve more than three stars, the plot just two. I found this just barely above passable for interesting. This movie is about nothing surrounding some art, mafia ties, a few murders, and a little sex at the working place. None of it extremely memorable.
Cynthia S.
Super Reviewer
Cast: Danny Aiello, Edoardo Ballerini, Vivian Wu, Mike McGlone, Sandra Bernhard, John Corbett, Kirk Acevedo, Summer Phoenix, Polly Draper, Jamie Harris, Mark Margolis Director: Bob Giraldi Summary: Louis (Danny Aiello) is an aging bookie and restaurateur who's bemoaning the transformation of Giginos -- his restaurant in the TriBeCa area of New York City -- from a down-to-earth, mom-and-pop Italian eatery to a pretentious, see-and-be-seen establishment. To make matters worse, Louis's son Udo (Edoardo Ballerini), a talented chef, wants to take over the restaurant ... as do a pair of thugs who murdered Louis's partner. My Thoughts: "I was pleasantly surprised by this film. It's not one I planned on seeing. But I am glad I did. There's only a handful of actor's in this that are recognizable for me, but there is great acting by every lead and supporting actor in this. There are many characters in this movie and the director does a great job at playing off of all of them. It's an impressive weaved story. I am still surprised by the ending since I didn't see it coming. It's not your average mob story, but one I enjoyed from start to finish. "
♥˩ƳИИ ƜѲѲƉƧ♥
Super Reviewer
I was channel surfing when I stumbled across this interesting Independent drama [written by Rick Shaughnessy and Brian S. Kalata] on the Sundance channel. The director Bob Giraldi ("Hiding Out") somehow managed to successfully pull off a realistic restaurant movie with a gangster subplot, all while staging practically the whole film inside or right outside a popular Italian restaurant in Tribeca, NYC. Great performances by Danny Aiello ("The Last Don", "City Hall","Léon The Professional", "Do the Right Thing", "Moonstruck"), Kirk Acevedo ("Fringe", "The Black Donnellys", "Oz", "Band of Brothers"), Summer Phoenix ("Esther Kahn", "The Believer", "The Laramie Project", "SLC Punk!", "Wasted"), Mark Margolis ("The Wrestler", "The Black Donnellys", "Oz", "Nobody", "Gone Baby Gone"), Vivian Wu ("The Pillow Book", "Song jia huang chao", "The Joy Luck Club", "The Last Emperor", "Shanghai Red"), Edoardo Ballerini ("Boardwalk Empire"- New HBO drama, "A Year and a Day","Protect and Serve", "Life Is Hot in Cracktown","Romeo Must Die"), Polly Draper ("thirtysomething", "Second Best", "A Perfect Fit","My Idiot Brother"- in production for 2011), Mike McGlone ("The Brothers McMullen", "The Bone Collector", "She's the One","The War Within", "The Kill Point"), Ajay Naidu ("Office Space", "The Guru", "The Wrestler", "The War Within", "Today's Special", "Montana"), Manny Perez ("Washington Heights", "100 Centre Street", "Pride and Glory", "El cantante", "Illegal Tender" "Crooklyn"), Jamie Harris ("The Prestige", "Mr. Nice","Rise of the Apes"-2011), John Corbett ("United States of Tara", "My Big Fat Greek Wedding", "Lucky", "The Visitor", "Sex and the City"), Sandra Bernhard ("Roseanne", "The King of Comedy", "Hudson Hawk", "Nice Dreams", "Wrongfully Accused"), John Rothman ("Prime","Welcome to Mooseport", "Reservation Road" , "The Devil Wears Prada"), Walt MacPherson ("Homicide: Life on the Street", "DONNIE BRASCO", "Montana"), and Fanshen Cox ("Gone Baby Gone"). Good cinematography by Tim Ives ("How to Make It in America", "Blue Bloods" - New TV Show). It was structured almost more like a play than a movie, the performances and pace seemed to reflect that a little, and somehow the formula worked [even though it might be a little too slow for some]. I enjoyed the contributions each character made to the overall plot...there's an old school restaurant owner/recently-retired bookie, two mob goons looking to collect money from the sous chef and possibly take over a controlling piece of the restaurant, a mysterious guy wearing a two-striped tie sitting by the bar all night seemingly taking in the scenery while observing everyone, an arrogant art dealer, a struggling artist/waitress, a cool intelligent bartender hustling people out of money by answering all sorts of questions, a womanizing star chef who comes up with exciting new dishes that woo food critics and make everyone keep coming back for more, a sous chef with a gambling addiction who does most of the work in the kitchen, and a temporary power outage almost serves as a character all it's own. All of these personalities are ingredients that mix together well and make for an engaging albeit slow-paced cinematic dish, with an ending that is a satisfying cold dessert. Overall it's a good drama, old-school film-making at it's best.
Chosen 718
Super Reviewer
Dinner Rush Quotes
There are no approved quotes yet for this movie.