Dirty Harry
(1971)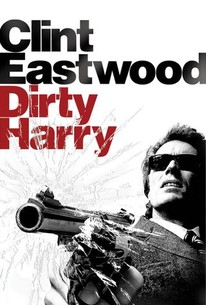 Movie Info
"You've got to ask yourself a question: 'do I feel lucky?' Well, do ya, punk?" Dirty Harry provoked a critical uproar in 1971 for its "fascist" message about the power of one, as it also elevated Clint Eastwood to superstar status through his most enduring screen persona. Harry Callahan (Eastwood, in a role meant for Frank Sinatra) is a sardonic, hard-working San Francisco cop who can't finish his lunch without having to foil a bank robbery with his 44 Magnum, "the most powerful handgun in the world." When hippie-esque psycho Scorpio (Andy Robinson) goes on a killing spree, Harry and new partner Chico (Reni Santoni) are assigned to hunt him down, but not before the Mayor (John Vernon) and Lt. Bressler (Harry Guardino) admonish Callahan about his heavy-handed tactics. Racing against a deadline to save a kidnap victim from suffocating to death and unbothered by the niceties of Miranda rights and search warrants, Callahan brings in Scorpio, only to see him released on technicalities. "The law's crazy," opines Harry in disgust, before taking it upon himself to ensure that Scorpio doesn't kill again. Directed in violent and efficient fashion by Don Siegel, with a propulsive score by Lalo Schifrin, Dirty Harry was the fourth Siegel-Eastwood collaboration after Coogan's Bluff (1968), Two Mules for Sister Sara (1970), and The Beguiled (1970). Critics at the time strongly objected to the heroic image of a cop's violations of a suspect's Miranda rights, forcing Siegel and Eastwood to deny that they were right-wing reactionaries. All the same, Dirty Harry proved to be highly popular and spawned four sequels: Magnum Force (1973), The Enforcer (1976), Sudden Impact (1983), and The Dead Pool (1988). ~ Lucia Bozzola, Rovi
Critic Reviews for Dirty Harry
Audience Reviews for Dirty Harry
½
The best Dirty Harry film, good cop thriller.
In the pursuit of the gleefully sadistic yet cowardly Scorpio killer, played to perfection by Andy Robinson, Detective Inspector Harry Callahan manages to step on the toes of every one of the bureaucratic superiors he holds in so much disdain. The man with no name may have been the character that made Clint a star, but it was Harry Callahan that made him an icon; he is the personification of tough guy charisma in one of the all-time classic cop thrillers. Don Siegel directs with incredible economy, encapsulating Callahan's character in a brief exchange with the mayor and his methods in the classic bank heist shoot out all within the first 15 minutes. No car chases, no explosions, no romantic interest. Just a brilliantly written, perfectly executed hard-boiled crime thriller scored wonderfully by best of the best, Lalo Schifrin. Nigh on perfect.
A gritty and riveting thriller. A classic of its time and still works today. Clint Eastwood gives a real movie star performance, he has the grit, wit and tough as nails persona that shows why he was one of the true leading men of his time and one of the ultimate bad asses in film history. A tough. taunt and terrific film that still works and is the best of the series. It`s cool as hell and action-packed and always entertaining. A hard-edged and pulse-pounding edge of your seat thrill-ride.
Dirty Harry Quotes
| | |
| --- | --- |
| Mayor: | Callahan, I don't want anymore trouble like you had in the Fillmore district. Understand? That's my policy. |
| Harry Callahan: | Yeah, well when an adult male chases a female with intent to commit rape, I shoot the bastard. That's my policy. |
| Mayor: | Intent? How did you establish that? |
| Harry Callahan: | When a naked man chases a woman in alley with a butcher knife, and a hard-on, I take it he's collecting for the Blue Cross. |
| | |
| --- | --- |
| Harry Callahan: | Go ahead. Make my day. |
| | |
| --- | --- |
| Harry Callahan: | "You've got to ask yourself a question: 'do I feel lucky?' Well, do ya, punk?" |
| Harry Callahan: | You've got to ask yourself a question: 'do I feel lucky?' Well, do ya, punk? |
| | |
| --- | --- |
| Harry Callahan: | You've Got To Ask Yourself One Question: 'Do I Feel Lucky?' Well, Do Ya, Punk? |
| Harry Callahan: | Magnum, the most powerful handgun in the world, and would blow your head clean off, you've got to ask yourself one question: Do I feel lucky? Well, do ya, punk? |