Dirty Mary Crazy Larry
(1974)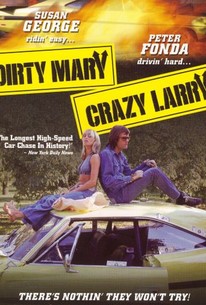 Dirty Mary Crazy Larry Photos
Movie Info
Three outlaws hit the road until the road hits back in this supercharged action thriller. Larry (Peter Fonda) is a stock car driver whose reckless nature has caused him a long run of bad luck. Larry and his friend and mechanic Deke (Adam Roarke) need money if they're to get a new car and get back in competition, so they map out a plan to hold up a grocery store after 150,000 dollars has been dropped off for payroll and working cash. The heist goes as planned, except for one little hitch -- Larry spent the night before with his occasional girlfriend Mary (Susan George), and she has planted herself in Larry's car and isn't about to budge. With Mary along for the ride, Larry and Deke try to outrun the cops and make their way to freedom, though lawman Franklin (Vic Morrow) is determined to shut them down. Much loved by both gearheads and action film fans for its hair-raising stunt work and solid performances from the leading cast, Dirty Mary, Crazy Larry was a surprise box-office hit in 1974, grossing nearly 30 million dollars in its initial release. Roddy McDowall appears uncredited as the manager of the supermarket. ~ Mark Deming, Rovi
Critic Reviews for Dirty Mary Crazy Larry
Audience Reviews for Dirty Mary Crazy Larry
The weed of crime bears bitter fruit in this 70's era car chase notable for real stunt work and "f**k authority!" aesthetics. Get yer teenage rebellion groove on.
Kevin M. Williams
Super Reviewer
½
What the film lacks in terms of character development and logic, it makes up for in its devotion to spectacular automobile mayhem. The sensation that the cars are actually driving at an intense speed is conveyed by the bobbing of the camera as it tries to keep the actors' faces in frame while shooting inside the moving vehicle. What's the movie about? Outlaws on the run, ditzy hitch-hiker, pursuing lawman who does things his own way, battle of wits, a helicopter and a train.
El Hombre Invisible
Super Reviewer
½
Such a fun and entertaining movie. Great car chase(s) and fun performances. Even parts snappy and painful dialogue. It started off kind of grim but soon got enjoyably ridiculous. Deke was awesome and Peter Fonda was cool. Not Captain America (Easy Rider) cool, but still cool even if he drives NASCAR. Susan George was cute enough, but Mary was kind of annoying and those teeth were frightening. Vic Morrow was a crackhead and the Roddy McDowell cameo was nice too. I know the ending is supposed to be this big shocker but it just kind of made me laugh. A fun watch regardless.
Michael Gildea
Super Reviewer
Dirty Mary Crazy Larry Quotes
There are no approved quotes yet for this movie.