Se sei vivo spara (Django Kill - If You Live, Shoot!)
(1967)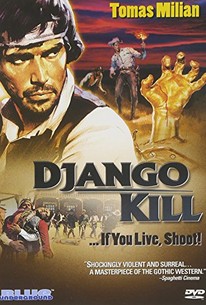 AUDIENCE SCORE
Critic Consensus: No consensus yet.
Se sei vivo spara (Django Kill - If You Live, Shoot!) Photos
Movie Info
In this spaghetti western, a cowboy rides into a town that two gangs have taken over. One of the gangs wears black leather and rides white horses. The other gang belongs to a storekeeper. The stranger and the two Indians who assist him manage to survive a massacre between the two rival gangs.
Critic Reviews for Se sei vivo spara (Django Kill - If You Live, Shoot!)
Audience Reviews for Se sei vivo spara (Django Kill - If You Live, Shoot!)
½
A half-breed bandit is betrayed by his fellows and left for dead in a shallow grave; two Indians rescue him and make gold bullets for him to use, and he rides into a wicked town looking for revenge and stolen gold. This offbeat Spaghetti Western has lots of strange touches, such as homosexual cowboys and drunk parrots, and is oddly compelling, playing out like a mixture of FISTFUL OF DOLLARS and DEAD MAN. It has nothing to do with the Django series.
First of all, this is not a Django movie, second, this is a movie that will split opinions in a strong way. Gay fascist cowboys, graphic scenes of torture and depravity, a weird psycho sexual vibe going on. A main character that spends more time captured than doing any killing, the most corrupt and vile euro-western town that ever existed. As if Luis Buñuel had directed a western. The direction is sloppy in some parts, specially the action sequences, but the film truly has an identity of it's own. Even if you hate this you can't deny there's no other western like this. Is worth check just so you can see it for yourself, but again, don't expect a regular spaghetti western, or a regular movie for that matter.
Tsubaki Sanjuro
Super Reviewer
A truly psychedelic trip into the spaghetti western. While this isn't a flawless movie, it's got a very unique sense about it. The violence is completely ridiculous, including a man being ripped apart for gold bullets inside his stomach. The editing is bizarre though, there will be long scenes that mean absolutely nothing and then it'll also have these amazing hyperspeed flashbacks. Tomas Milian is unstoppable as always, even shooting him into a ditch in the desert won't kill him. This is a fun and interesting movie, not perfect, but certainly entertaining and worthwhile.
Conner Rainwater
Super Reviewer
Se sei vivo spara (Django Kill - If You Live, Shoot!) Quotes
There are no approved quotes yet for this movie.