Do You Like Hitchcock?
(2006)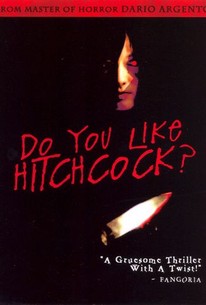 AUDIENCE SCORE
Critic Consensus: No consensus yet.
Do You Like Hitchcock? Photos
Movie Info
The Dario Argento-directed Do You Like Hitchcock? pays homage to the man considered by many to be the master of suspense. A voyeuristic film student senses foul play when a murder strikes at the apartment complex across the street, but the plot, which references such Hitchcock classics as Rear Window and Strangers on a Train, is less important than the style.
Critic Reviews for Do You Like Hitchcock?
Audience Reviews for Do You Like Hitchcock?
½
Argento's love letter to Hitchcock. It seems more of a Hitchcock movie than an Argento movie. It had more suspense than horror and gore pieces. The music and camera work was very much like Hitchcock films, which is good. I saw tributes to Rear Window, Strangers on a Train (obviously!), Psycho, Dial M for Murder, Vertigo, and probably others, but I'm not a huge Hitchcock fan. There should've been a fat bald man cameo too. It also had the made for TV feel, as if it were an episode of some anthology series. The lead character Giulio was a bit annoying with his need to involve himself in everything. During the video store scene, I enjoyed looking at the movies and posters they chose to display. This movie must've been sponsored by Torino, because it's all over the end credits.
Lafe Fredbjornson
Super Reviewer
It's sad to watch one of your heroes worst pieces of art. Without the numerous Hitchcock references, it would be almost completely without any intrigue. It is shot in a very basic and unimaginative way, a sloppy effort all around. The acting is terrible and the story is just too obvious and predictable.
Conner Rainwater
Super Reviewer
½
This TV movie is a surprisingly successful and thoroughly entertaining homage to Alfred Hitchcock by the man often erroneously dubbed the Italian Hitchcock, Dario Argento. The plot, a fusion of Rear Window and Strangers on a Train, is (predictably) full of holes, but the film never aspires to be anything more than a bit of fun. It's arguably the best thing Argento's done since The Stendhal Syndrome which, admittedly, isn't that strong a recommendation.
Do You Like Hitchcock? Quotes
There are no approved quotes yet for this movie.