Dogtooth (Kynodontas)
(2010)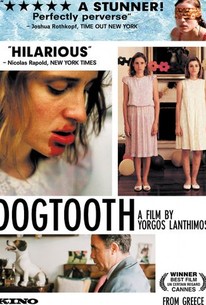 TOMATOMETER
AUDIENCE SCORE
Critic Consensus: It'll be too disturbing -- and meandering -- for some, but Dogtooth is as disturbing and startlingly original as modern filmmaking gets.
Dogtooth (Kynodontas) Photos
Movie Info
The father, the mother and their three kids live at the outskirts of a city. There is a tall fence surrounding the house. The kids have never been outside that fence. They are being reared in the manner that their parents deem appropriate, without any influence from the outside world. The only person allowed to enter the house is Christina. She works as a security guard at the father's business. The father arranges her visits to the house in order to appease the sexual urges of the son. The whole family is fond of her, especially the eldest daughter. One day Christina gives her as a present a headband that has stones that glow in the dark and asks for something in return.
News & Interviews for Dogtooth (Kynodontas)
Critic Reviews for Dogtooth (Kynodontas)
Audience Reviews for Dogtooth (Kynodontas)
Thematically, it may not be so original (The Village comes to mind), but there is something really fascinating in this extreme case of parental overprotection gone bizarre, as it raises inevitable questions about human nature, innocence and what makes us different from animals.
Carlos Magalhães
Super Reviewer
½
Older Daughter: Do that again, bitch, and I'll rip your guts out. I swear on my daughter's life you and your clan won't last long in this neighborhood. Dogtooth is a film that will certainly make you say, "What the fuck." This is also a movie that I can see a lot of people turning off about five minutes in. It's a quiet, disturbing, slow film. There's also a lot of moments when I just didn't want to be watching what I was watching. It's just too weird to think about in spots, especially the sexual stuff between siblings. It's not a movie that will entertain you and you are sure to have zero fun while watching it, but it is extremely interesting if disgusting, creepy, disturbing, and repulsive. I watched the whole thing, and I'll say it is a well developed and made movie. I still didn't like it much. The movie centers around a family of five living outside of the city. This family isn't normal. The parents keep their kids(a son and two daughters) at home all the time. They don't ever go out. They're home-schooled, except they're lied to. The parents tell them the wrong meanings of words, and protect them from things. Then again they'll tell the siblings that a cat is the most dangerous animal around and could eat them. It may sound funny, but watching this movie is a disturbing ordeal. Still, I watched with my eyes glued to the tv. Why? I don't really know, it's just one of those things I couldn't stop watching. The movie is really scary to think about and although it is a drama, it has a terrifying plot. To think of parents actually doing this to their kids is scary to think about. There are parts where it seems like the parents are almost sadistic in their approach to their kids. Are they though? Or maybe they think this is actually what's best for them. Maybe they think they truly are protecting their kids from the dangers of the real world. That delusion will be shattered. The ending will truly mess with you. It certainly did me.  I'm giving this a favorable review because it did exactly what the director set out to do. In all honesty, it deserves five stars because it is absolutely perfect at evoking the feelings it tries to evoke. I just can't give it anymore because I am so repulsed. Damn, this doesn't happen to me often, but this one did it. I have to respect it for that. Truly disturbing. 
Melvin White
Super Reviewer
Unsettling in an amazing amount of respects, Dogtooth is a metaphor gone to the depths of possibility, coming out the other side as a dramatic piece about the overbearing nature of parents. Two parents lock their adult children into their home and create a distinct dreamland, misdirecting their attention from real world issues, and lying to them constantly, including hiding the telephone, lying about the dangers of cats, telling them fake definitions for common words, and perpetuating a violent household by not letting their natural curiosities become sated and their questions left hanging without answer. When an outsider comes into the household everything changes for the family, as everyone starts questioning the ethics of their parents, and the decisions they have lived with their entire lives. The dynamic isn't all too interesting, and since most of this takes place in one vicinity and with several lifeless characters, it repeats itself again and again with its contant message. The characters aren't all too fleshed out, and most of this lingers on the main idea instead of exploring the reasons for the parents' decisions. The violence, sexual misadventures and taboos, I believe, are there for the sake of the film and not just to simply shock once you're comfortable with the misanthropic nature of the characters. It's obvious from the beginning that the nuclear family will not end their time well, and the film will be about exploring their realizations and bitter resignation as the outside world slowly creeps in. The ending is possibly hopeful, as the fence will soon be broached and all the lies their parents told repetitively will be proved to be just that. Most of the lies themselves are explained and their motives are evident, but the reasoning behind why they were told in the first place remains foggy. If the characters weren't so one dimensional and empty this would have been a more empathetic film overall, but I find it unrealistic and pandering throughout as a result.
Spencer S.
Super Reviewer
Dogtooth (Kynodontas) Quotes
| | |
| --- | --- |
| Mother: | The new words of the day are: "Sea", "Highway", "Road trip" and "Shotgun". |
| | |
| --- | --- |
| Father: | Soon your mother will give birth to two children and a dog. |