Donkey Skin (Peau d'âne)
(1971)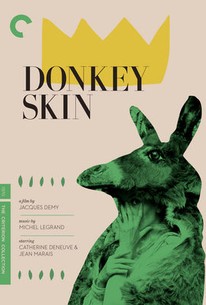 Donkey Skin (Peau d'âne) Photos
Movie Info
A charming fairy tale from musical innovator Jacques Demy and musical collaborator Michel Legrand. Odd but utterly endearing.
News & Interviews for Donkey Skin (Peau d'âne)
Critic Reviews for Donkey Skin (Peau d'âne)
Audience Reviews for Donkey Skin (Peau d'âne)
½
[font=Century Gothic]Once upon a time, in "Donkey Skin", there was a king(Jean Marais) and queen who lived happily with their daughter(Catherine Deneuve) until the queen lay dying. On her deathbed, she makes her husband promise that he should only remarry if he can find someone who is more beautiful than she is. After a long and fruitless search, the king realizes that the only person who fits that description is his daughter and asks for her hand in marriage. Naturally, she is not crazy about the idea and goes to her fairy godmother(Delphine Seyrig) for advice. As a stalling tactic, the princess as a condition of accepting the proposal is to ask her father for dresses the colors of weather, the moon and the sun, thinking each request impossible. On each count, the king is successful, each dress more glorious than the previous one. In desperation, she is to ask for the skin of the donkey who magically defecates gems and gold. Again, he accedes. After which the fairy godmother puts the princess into the Princess Protection Program...[/font] [font=Century Gothic]"Donkey Skin" is a delightful musical fairytale brought forth by the unique vision of Jacques Demy. The movie is about all of the different varieties of love and the many varied ways people can show their affection.[/font]
Donkey Skin (Peau d'âne) Quotes
There are no approved quotes yet for this movie.